Dogs have gotten a lot of accolades over the years, and rightfully so. Timmy would still be trapped in that well if it wasn't for them, but cats have been discreetly bettering their humans' lives too. 
Catitude gets a bad wrap, so our team of cat lovers is set on highlighting some amazing felines to change perceptions around the cat community.
Cat Mountain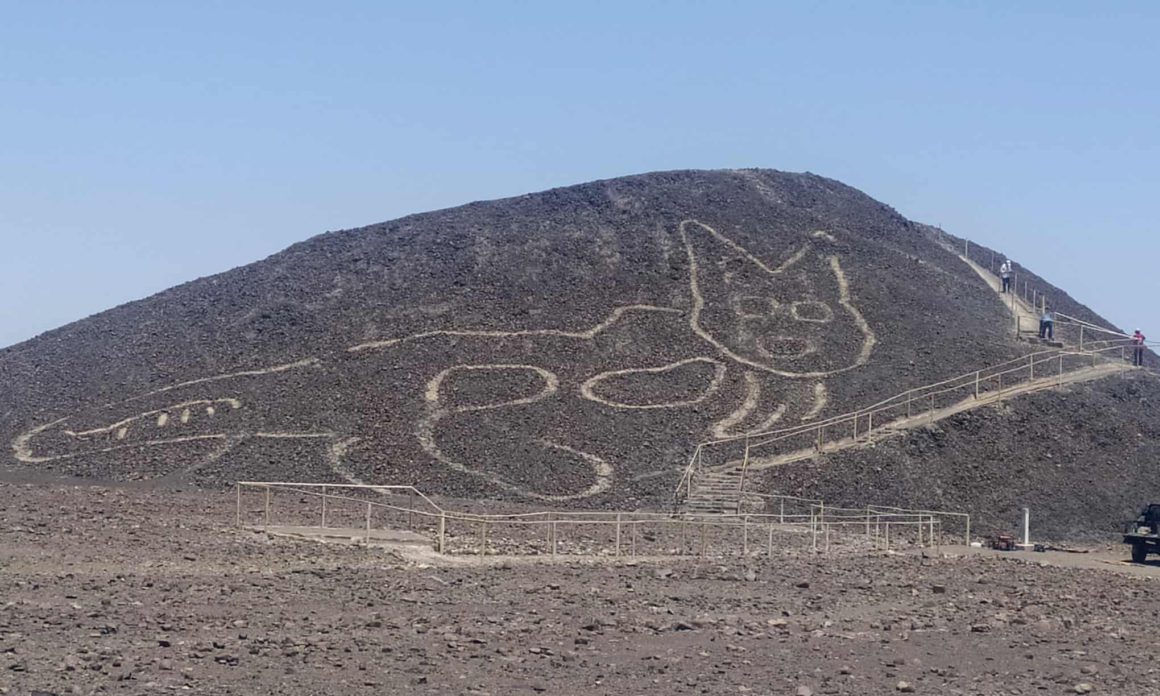 In a year that's been, let's say, unexpected, the unveiling of a Peruvian geoglyph has been one of the bright points. This 30 meter landmark (around 121 ft.) was nearly lost to time when the cultural ministry stepped in. 
The size, age, and effort put into restoring this UNESCO world heritage site is the ultimate proof of the joy cats have and will continue to bring to the world. 
Blaze of The Little Angels Project
In early September, fires ravaged the Sepulveda Basin in Los Angeles and 5-week-old Blaze found herself caught in its path. She was scooped up just as the flames began licking her paws. 
The Little Angels Project dedicated their resources to helping her heal and thanks to their efforts, this spunky kitten had a chance for a new life. This tiny cat's story has inspired us all to persevere in the eyes of defeat.
Man Saved by Newly Adopted Cat
After falling in the shower, 85-yr-old Ron Williams lay helpless for 16 hours. He couldn't reach his life alert or his cell phone so things couldn't be more dire, but Ron had adopted a cat just weeks earlier. 
In the weeks prior Ron would say "ring-a-ding" whenever a call came in and Fluffy learned to associate the phrase with his phone. In a desperate plea while laying on the floor, Ron said the phrase and to his surprise, Fluffy retrieved the phone.
"He's my hero," said Ron, "and he always will be". 
James of The Orphan Kitten Club
A little black fluffball, James was born with no back legs. Many kittens are able to overcome this, but he struggled with some other health issues that made it harder for him. 
Hannah Shaw, otherwise known as the Kitten Lady, dedicated her time to building his muscles so he could be mobile. Every day he became more confident and capable, even able to scale a ramp so he could curl up in bed with Hannah. 
This silky panther was welcomed into an amazing forever family just two months after being released from the hospital. 
Superhero Duo from The Little Lion Foundation
These two tiny heroes speak volumes for the kittens who can't. Since kittens are the most euthanized population in the United States, their ability to overcome such an immense obstacle is something truly triumphant.
Kittens under 8-weeks-old require overnight care, which means they are unable to survive in our understaffed shelters. Making the choice to support these tiny creatures helps to change a statistic that desperately needs changing. 
Make a life-changing difference by supporting a cat in recovery today.
Do you love cats as much as we do?
5 Things You May Not Know About Feral Cats
(Podcast) CatPAWS: The Price of a Miracle