#10 Boston, MA
It is wicked cool to have Bean Town kickoff our list of top cities. As home to the American Revolution, it is no surprise to find that Boston was the first major city to allow dogs on their subway.
Even cruises of historic Boston Harbor aren't off limits to our furry friends, which include a stop at an uninhabited island for exploration and, well, relief. Liberty Hotel plays weekly host to Yappier Hour with treats and pup-tini's provided by The Fish & Bone, a local independent pet supply store.
Dog access to historic sites abounds, and the number of pet-friendly hotels and restaurants lists in the dozens. And, although leash-free parks are few, a short journey to Carson Beach provides plenty of room to play.
#9 Colorado Springs, CO
Imagine a medium-sized city that provides a football field amount of park space for every five pups. Add one of the lowest vet care costs and highest per capita veterinarian count and you have our next top ten pick.
Nine months of sunny days lure denizens and their pooches to an abundance of attractions, businesses, and restaurants that welcome our furry friends such as Nosh, an eatery featuring a weekly happy hour along with water fun and treats.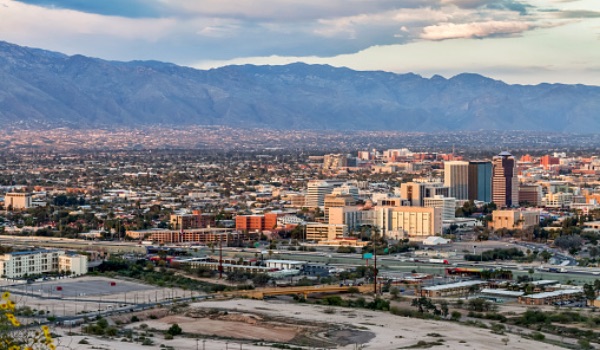 #8 Tucson, AZ
Reigning as the sunniest city in America with 350 rain-free days, Tucson displays a proud presence for dog-friendly fun. Even their visitors' site proclaims the city as a "Pooch's Paradise", and here is why: With ten leash-free dog parks, residents enjoy a host of outdoor activities.
Canines luxuriate in spa treatments and shopping sprees at nearby dog boutiques. Visitors can stay at one of three dozen pup-friendly hotels, with as many restaurants open to our furry friends.
Check out Pima Air and Space Museum as well as the annual Pitbulooza in honor of National Pit Bull Awareness Day, and don't forget to pop in to Charron Vineyards, a pup-friendly winery, along the way.
#7 Las Vegas, NV
With an abundant 20 off-leash dog parks and 85% sunshiny days, their reputation for dog friendliness will not stay in Vegas. Bring your pup along and enjoy a stay at any of 66 accommodating hotels and motels. And, no need to leave your companion behind: Many of the hottest spots on the strip allow dogs inside.
When the summer heat proves too much, look no further than the shaded trails of surrounding park areas, such as Red Rock Canyon, to provide scenic escapes. There is no shortage of dog walkers or veterinary clinics on hand to support responsible owners, not to mention three dozen restaurants that allow us to share in our camaraderie.
#6 San Diego, CA
Featuring unbeatable weather and plenty of dog-friendly accommodations, this coastal paradise earns its place among the top of our list. Sixteen leash-free dog parks and miles of public beach provide plenty of play area. Not to mention that the public transportation allows small, crated pets aboard.
You wouldn't have any trouble finding a restaurant or bar to welcome your pup such as Lighthouse Ice Cream & Yogurt, home to Frosty Paws, a frozen treat tailored to canine dietary requirements. You can get moving quotes online.
The City is even promoting sustainable population practices by banning commercial breeding facilities, also known as puppy mills. Sure doesn't get a whole lot better than this.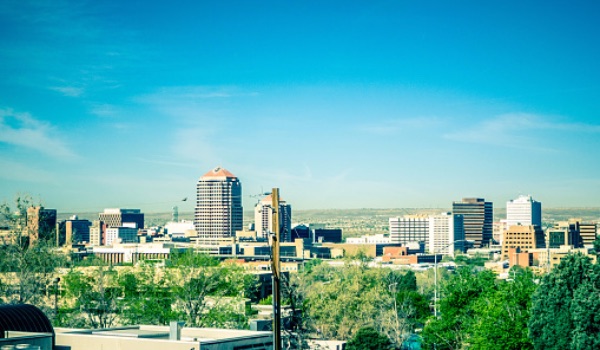 #5 Albuquerque, NM
As a city enjoying an upswing in cultural recognition, ABQ bestows resident pooches with a wealth of urban riches. Its 33,000 acres of park area amount to 1/4 acre for each pet in the city, and 14 leash-free dog parks allow ample opportunity to let loose.
But pet friendliness doesn't stop outside: Twenty three local restaurants welcome our furry friends, while dozens more businesses and hotels happily allow their visits. Stop by Kellys Brew Pub to refuel both you and your pup, then strike out for a stroll through Nob Hill to take in the sights and enjoy some canine camaraderie.
Combine that with an average of 300 rain-free days and you have the makings for outdoor fun.
#4 San Francisco, CA
Not only does the City by the Bay have over 60 leash-free dog parks and beaches, but it is ranked #2 in the nation for walkability. Gym accessibility for pups ensures a good placement in our review, as do a whopping 177 restaurants providing dog-friendly patio dining.
Dogs fare well on local ferries and street cars, and can even ride the Muni during off-peak hours if muzzled or crated. From the doggie menu at Le Marcel pastry shop to a one-hour cruise in the bay on Blue and Gold Fleet, pups can share in the fun that the city has to offer.
#3 Austin, TX
In the heart of the Hill Country, the dog days of summer never end. You'll find residents and their pooches frolicking at one of twelve off-leash dog parks, including a wide selection of water spots such as Auditorium Shores, the favored playground of famed rock-diving canine, Kramer.
Austin features Bow-Wow Chow, a food trailer for dogs, and has dozens of pet-friendly restaurants, bars, and coffee shops that gladly accommodate pooches on their porches, replete with a water bowl and treat. Add to that nearly three dozen pet photographers as well as Austin Doga, a dog yoga studio, and you're in it to win it.
Plus, the community partners with the local animal center to support it as a no-kill shelter, which is pretty cool in our book.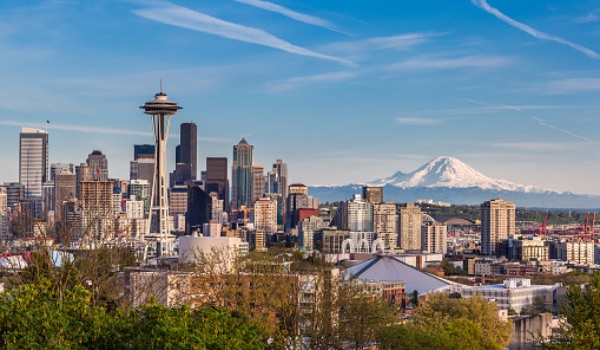 #2 Seattle, WA
Rainy days aside, The Emerald City hits home at #2 for dog-friendly living. Pups are allowed on public transportation, with fares being required only of large dogs.
Eleven off-leash dog parks provide plenty of play, while a few dozen Meetup Groups help bring dog lovers together. Seattle is home to more dogs than children, should that tell you anything. And, there is no shortage of canine-friendly businesses, such as BARK! espresso and Scraps Dog Bakery, to accommodate outgoing dogs and their humans.
#1 Portland, OR
The Rose City tops our list once again in our annual list of dog-friendly cities. With a whopping 32 off-leash dogs parks, 19 pet massage therapists, and its very own social network for canine lovers, it provides spoils for pups and their humans alike.
Portland boasts accommodations for our furry friends at most pubs and eateries, including the Doggie Menu at Tin Shed Garden Café. Average home lot size exceeds 8,000 sq ft, and, if that's not enough, a trip to local Powell Butte Trail for a four mile hike provides plenty of room to stretch out those legs in a city that is already ranked as the 12th most walkable in the U.S.
Related Articles: