Pitbulls have been victims to legislation and Karens alike, but it may be shocking to learn they are hiding in plain sight. The term pitbull is loaded and misunderstood in more ways than one.
Let's look at a lineup and try to find the pitbulls in the bunch.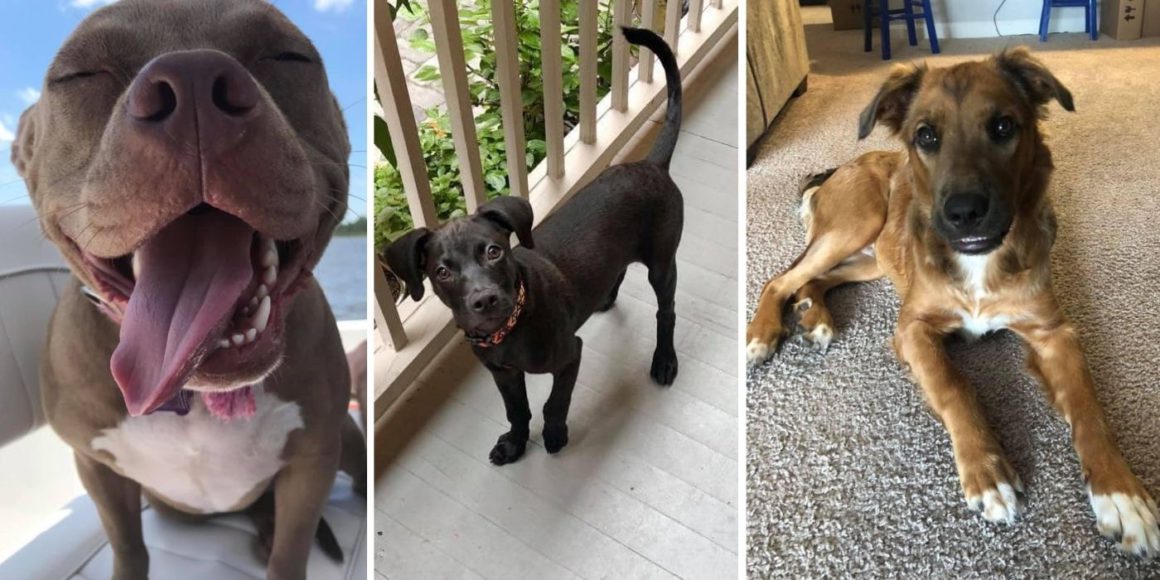 Got your guesses?
Well, every dog shown is a pitbull.
Now that we have that out of the way, let's see if we can break down terms that illuminate what it's like to live in the tiny furry paws of a pitbull.
1. Nanny Dogs
Pitbulls were called "nanny dogs" because of how gentle and kind they were with children. Still today, they are largely targeted by breed-specific legislation.
BSL are vague, discriminatory laws aimed at the way a dog looks and have nothing to do with that specific dog's behavior. Labeling a dog as "dangerous" can put unnecessary pressure on a pet parent that could force them to ultimately surrender their dog.
2. Pitbull
Ready to have your mind blown? Pitbull is not a breed of dog.
Yup. It's a generalization referring to several breeds including American Staffordshire Terrier and the Staffordshire Bull Terrier.
3. Lock Jaw
Many of us were raised on the idea that certain dog breeds have jaws that lock and make them inherently more lethal. This is a totally false claim for any dog, including pitbulls.
4. Temperance
Temperance test judge the behavior or reaction of a dog as well as shyness, agressiveness, etc. Pitbulls actually do better than the majority of dogs, generally scoring second highest of all dogs.
5. Dog Fighting
Pitbulls have become synonymous with dog fighting and it's assumed that's because they are innately vicious- which is untrue.
Pitbulls are the preferred dog for fighting and that is because they are known for being so loyal. They will act against their nature to attack another creature because they have such immense love for their owners.
With these terms in mind, please know that stereotypes are never broken in a day. Amazing rescues are working every day to educate their communities and help alleviate the pressure every pitbull and their parents face.
Click here to support a pitbull currently working toward recovery.
Interested in learn more?
Nose to Toes Healing, the Difference a Balm can Make
Preparing Yourself & Your Pets For Disaster