Trying to understand the ins and outs of CBD is like entering a black hole that grows a little more each day. This trending product has fueled a fury of research, which means reading an article even 30 days old may feel outdated.

For those new to the discussion, CBD is a derived from hemp or cannabis and does not necessarily contain limited traces of THC, which is the substance that produces a high for its users. CBD has been lauded by the masses as a cure-all for everything from epilepsy to dermatitis, which seems a little too good to be true.

In 2018 the FDA approved CBD for uses in some forms of epilepsy and a month later, a Cornell study reported 80% of osteoarthritis dogs who used CBD showed "significant improvement in pain levels and quality of life".

Anecdotal evidence has led pet parents to use CBD for its anti-inflammatory effects and to help with anxiety, aggression, pain, seizures, muscle spasms and neurological disorders.

Sprays, Tinctures, Treats- Oh My

After finding a brand you trust, you'll be making the choice on how you and your pet will be consuming CBD. Your experience will vary depending on the method you choose and the symptoms you are treating should be taken into account when selecting your CBD product.


Tincture (Drops and Sprays)

A little dropper can go a long way if it's filled with a CBD tincture. As one of the best ways to absorb CBD, this method is one of the most common for pets and people alike and is perfect for more comprehensive wellness.

When on the go, a spray is a great alternative to a dropper. A quick spritz on a treat, in a water bowl, or directly in your pet's mouth will leave them feeling calm and confident.

Topical

Applying a balm, cream, or using a soak can be a little more tricky. While our skin is our biggest organ, it doesn't absorb CBD as quickly as inhalation or an oral tincture, which means these products will need to be applied liberally.

Because these treatments target concentrated areas, you'll have more control over the effects. Products in this category are wonderful to upgrade bath time and have been shown to soothe skin and even support hair growth, which means your pets can feel more comfortable and look their best too.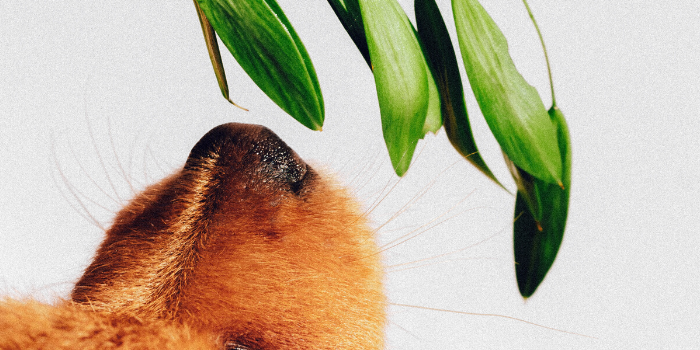 Home is Where the Hound is

Sitting idly by while our pet suffers from anxiety and stress can be miserable and while they can't tell us in words what they are feeling, it can become clear relatively quickly. Dogs with stress have been shown to have symptoms including loss of appetite, weakened immune system, diarrhea, behavioral problems, exacerbated illness, and inappropriate urination.

Some people may think these behaviors translate to a 'bad dog' and a new pet parent may be left feeling overwhelmed. Incorporating CBD into a consistent routine is one practice that can support this transition and pave the way for calm, happy families.

In a world where too many pets are homeless, abandoned, or returned, CBD seems to offer a ray of hope. The potential to steady a dog's nerves long enough to charm a family, to aid in separation anxiety, or help behave when meeting new people could make all the difference in a pet's life.
Become part of a rescue animal's journey by clicking the button below.
Learn more about health and wellness with your pet.
Nose to Toes Healing, the Difference a Balm can Make
Kids and Pets: Benefits and Safety Tips