In 2009, one of the first gender-reveal videos made it way across the internet, taking it by a storm. No one would have thought this trend would have sparked a revolution, but by 2011, gender-reveal parties had become a national phenomenon in the United States.
Meant to represent an exciting and significant time in an expectant couple's life, these parties were customizable and could easily be played up or down, making them extremely popular on a national scale.
But while these parties seemed new, the concept of introducing or presenting news on a large, social scale resembled a historical tradition that had been practiced for centuries. Coming-out parties.
Now, for those not familiar with coming-out parties, these events were a way in which a family would formally introduce a young woman or man to society. This presentation or introduction was something to be celebrated, as it signified the beginning of their adult life. The familiarity between these two occasions explains why gender-reveal celebrations resonated so quickly with audiences.
However, after scouring the internet and happily watching numerous parties online, one of Lending Paws A Hand's fosters couldn't help but wonder about the other "children" in our lives – better known as our pets.
She wondered if people could use the same elements of a gender-reveal or coming-out party to celebrate the start of a rescue animal's life while promoting something amazing in process: animal adoption.
Thankfully, after adopting her from Lending Paws A Hand, Martini's new parents saw the perfect opportunity to give it a try. And in Martini's case, there was no animal more deserving.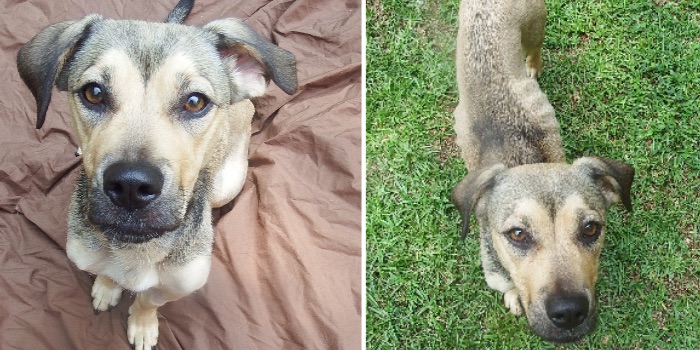 For those who don't know, Martini was first rescued back in 2019 by Lending Paws A Hand. Unable to even stand on her own, Martini was in such critical condition that she had to be hospitalized for four days, constantly receiving IV fluids and nutrition along the way.
While rescuers didn't know much about her past, it was very clear that the pain she had to endure wasn't quick and short. Rather, her pain and her struggle was long and agonizing and drawn out. To this day, those familiar with Martini's story cannot imagine the thoughts that were going through her head during her starvation, nor the emotions or physical pain she felt prior to being found.
However after months of treatment and patience, Martini finally came into her own and was able to put that past behind her. A kind family even chose to adopt her and bring her into their home.
Knowing the struggles she faced though, her adoptive parents, Hanne and Bärbel, wanted to do something special to introduce Martini to her new life. And so, they hosted a 'breed-reveal' party as a way to celebrate her new start and introduce her to the friends and family members that would cherish her for the rest of her days.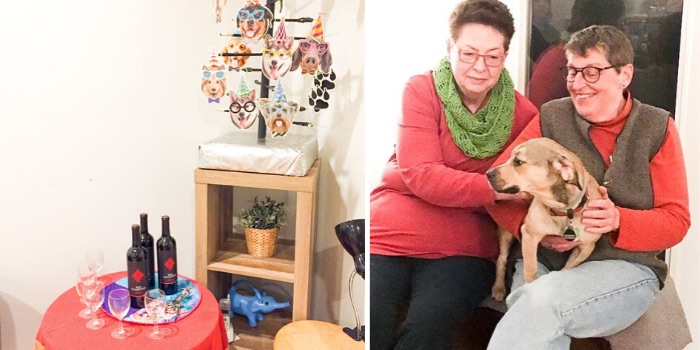 As the day of Martini's 'breed-reveal' party approached, her adoptive parents prepared this sweet girl for her coming out. They had a genetic test done to determine Martini's mix of breeds, wanting to embrace every hereditary part of her that made her the dog she was. And as friends and family slowly arrived at the gathering, they all participated in fun activities and contests that circulated around Martini and who she was.
It truly was a day filled with kindness, love, appreciation, and acceptance. And it was the perfect way to welcome Martini to her new life.
What did Martini's genetic test reveal?
She's 50% American Staffordshire Terrier, 12.5% Beagle, 37.5% terrier, middle eastern and African, sporting and herding group. But what's more? She is 100% loved in her forever home.
Now, with over 6.5 million companion animals entering shelters each year, it's about time that we start to celebrate the adoptions of rescue animals and help emphasize the freshness of their new life. Let us all take a card from Lending Paws A Hand's book and start the trend that has the potential to save thousands of animal lives. Because adopting an animal, especially one that has lived through some kind of trauma, is a beautiful, selfless, and compassionate act – and it deserves to be celebrated.
Related Articles: