What can I do to help?
This is a question that comes up frequently when it comes to rescue. There is such a need for help in all aspects of rescue that it can seem quite daunting to even start, or know where to start for that matter.
Have no fear though. Regardless of where you are in the world, you have the ability to help. Even if you aren't able to foster, adopt, or donate funds to an animal, you still have the opportunity to give back.
Below, you'll find three crafts that you can make at home (for FREE) to give back to your local shelter! And one of the greatest things about these DIY projects is that you don't need to be particular crafty to do them. Nothing needs to be perfect or exact.
The point is not to create the perfect craft, but to simply create to give back.
DIY T-Shirt Dog Toys
This craft is incredibly simple and SO easy to make. Simply grab a few old t-shirts, ones you don't mind cutting up, and get started.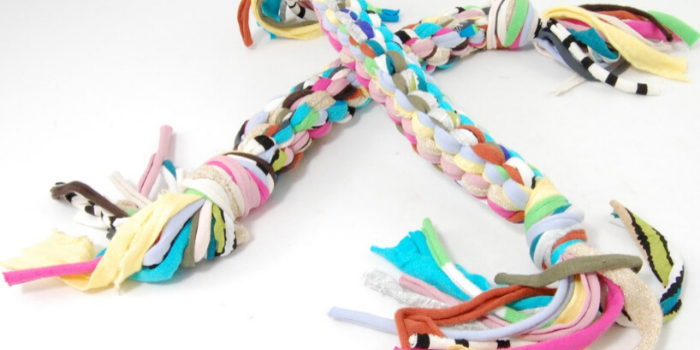 Directions:
Cut the shirt into 2-3 inch wide strips
Bunch the cut strips together and tie them off at one end in a knot
Divide the strips into three sections.
Braid the strips all the way till the end, then tie off the second end in another knot
Wa-la! There you have the perfect chew or tug toy!
What is also wonderful about this particular project is that you can make multiple toys from one shirt alone, meaning that one t-shirt has the ability to make MULTIPLE shelter animals happy.
Jean Waistband Kitty Toy
This craft is just like it sounds – it's a jean waistband! And while the simplicity of this craft may not interest you, it most certainly will do the job of occupying and entertaining a cat.
Directions:
Cut the waistband off from the jeans
Remove the button
That's it!
There you have the perfect dangle toy for kitties to sink their claws into. The durability of the jean will help maintain the toy for quite some time too!
Donut Denim Toy
This denim toy is simple to make and is great for chewing! Plus, it's so cute to look at!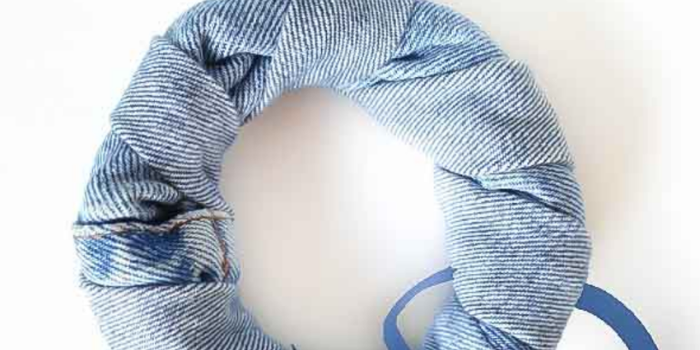 Directions:
Cut the leg off of one jean leg.
Start to roll the jean leg into a donut shape
Wrap a separate, long denim strip around the donut to secure the donut shape and tie the ends together with an overhand knot.
And once more, wa-la! There you have the perfect toy that is not only washable, but will help brighten the day of a shelter animal.
If these crafts show us anything, it's that there is always an opportunity to give back regardless of where you are in life. We were at CUDDLY adore these types of DIY projects because they can be made easily in bulk with items just laying around your house. It's as they say: one man's trash is another man's treasure.
By utilizing items that you no longer have a need for, you're providing a rescue animal with a hand-made item to keep them comfortable while looking for their forever home! Many shelters have very limited funding and can't always afford to provide each one of their animals with toys – so crafting your own at home and donating them can TRULY make a difference.
Looking for another FREE way to give back? You can do your part in bettering the lives of animals by sharing and spreading the word about those in need of rescuing and/or medical care. To view all of CUDDLY's current campaigns, click here.