Dear Dad,
It's me, June. You and I, we've never been one for many words. I guess, after a lifetime, you don't need to hear someone to understand them. But while I'm certain you already know most of the things I'm about to tell you, I think it's important for you to hear it. Just once.
First, I have to say that the last ten years haven't been perfect – not by a long shot. They've been filled with challenges and mistakes and battles that seemed, at times, to be all uphill. And yet, in this moment, you are perfect. And everything that has led up to this moment has been perfect.
I've always known death to be such a simple thing, but, humans, you sometimes tend to see it as something frightening or complicated. And there's nothing wrong with that. We all look at the end in different ways. I suppose I just want you to understand how I look at mine.
Laying here, with you all around me, I want you to know that I'm not scared. I'm not confused or lonely. I am not bitter or resentful. In fact, I think the best word to describe how I'm feeling…is peaceful. You've protected me my entire life. From the day I was brought home till now, you've kept me safe. But you've also made me strong in so many ways. And it is because of that, that I can look at the end and not feel fear. It is because of you that I can look at the end, and smile.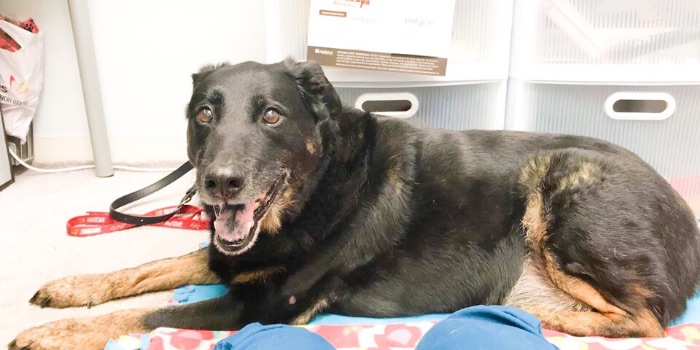 Our life together has been chaotic and funny and sweet and filled with so many incredible memories. Actually, I should probably take a moment to tell you that I'm sorry about your plant. You know, the one I kept chewing away at when I was smaller and you'd leave for work. I don't know why I chewed it; it didn't even taste good. But I know you loved it, for some odd reason, and so I'm sorry.
I'm also sorry for all the mail you never got to read. Those didn't taste good either and I'm guessing there were some pretty important things in there. It seems like that was all just yesterday, doesn't it? Time flies so incredibly fast. One minute you're here and another, you're there.
Now, I didn't tell you before because I didn't want to worry you, but I had been feeling pretty crappy these past few weeks. Food has lost its taste, climbing the stairs has become my least favorite thing, and even getting up in the morning has been tough. I didn't really understand what was happening until we got news of the cancer…
Then, everything just seemed to make sense. Thinking back on it, I think you knew my time was coming near in the months leading up to now. And I cherish everything you did to make those last months special for me. I love you for taking me down to the river, one last time. I love you for hugging me right before bed and for telling me how much I meant to you. I don't think many humans would get on the floor and lay with their dogs – not when they have such comfy beds themselves – but you did. Every night. And I love you for it.
Now, I really want you to listen to me when I say this next part, Dad. This is not your fault. You've always questioned yourself when it comes to those you love. You question if you did things right. You question whether you made the right choices or if you said the right things. Don't question this though. Don't question me.
This is not your fault. My cancer…is not your fault. Nothing you did or did not do is responsible for me getting sick. As I said before, you were perfect; the perfect father, friend, playmate, and protector. When it came to our life together, you did everything you were supposed to.
And it is because of everything you did that when I close my eyes, I do not see black. I do not see nothing. I see the blues of the river house I loved so much. I see the cream-colored sidewalks we'd stroll on. I see the rust color of those yummy treats you gave me every day and I see the neon green of those tennis balls I couldn't get enough of. But most of all, I see you. I see your brown hair, ruly in some places like mine, and your big round tummy. You're smiling at me and telling me how much you love me. And it's so warm here.
You will leave my body behind today, and I know how hard and unimaginable that's going to be. Never in a million years would I choose to say goodbye to you. But this is not goodbye forever, best friend. Rather, this is goodbye for now. No matter what you believe in or what you think happens to us after we go, I have no doubt that I will see you again. After all, a love like ours never dies.
Always yours,
– Junior
Related Articles: