William Shakespeare once said that "the earth has music for those who will listen." And he's exactly right. It has music to cure your stress, your sorrow, your boredom, and even, your anger. And what's more – you can listen to it's sweet tunes with your dog.

Did you know that there are endless amounts of benefits to hiking or simply walking around in the great outdoors? Walking is a weight-bearing exercise and helps increase bone density and muscle strength. It's also been proven to lower your blood pressure and your chances of contracting heart disease. Incredible what moving your feet can do, isn't it?
For your dog, hiking or walking is just as constructive. Not only can it help to provide them with much-needed mental and physical stimulation but the exercise itself also helps pets build endurance and strength. If you need another reason why hiking is good for your dog, know that (on top of everything) it even acts as a subtle way to socialize them to the world beyond your apartment or neighborhood and allows them an opportunity to smell new smells and see new sights.
Hiking can be for anyone, as it can be done in any manner or degree that suits the participant. Whether your an avid athlete or a netflix-and-chill kind of person, hiking can be a great hobby or activity or outlet for you.
Here are some things you'll need (typically):
Water/Portable Water Bowl:
This is, by far, the most important thing to bring on any trail run or hike. It is crucial to keep both you and your pet properly hydrated, especially on a warm day, as heat naturally stimulates our bodies to release the water we carry.
Dog Treats/Food:

Although this isn't as necessary as water, dog treats and food can be very important to bring on a hike – especially a long or strenuous one. Treats and food also can be used for encouragement during a hike.
Dog Leash/Collar:

Due to the fact that most hikes require a leash on your pet, it's important that you bring one. Plus, in the case of emergency or distress, it's always safer to have a leash.
First Aid Kit:

For long or strenuous hikes, you'll also want to bring a first aid kit, including cleaning wipes, clippers, tweezers, etc.
For those who may not know, my new years resolution was to do more outdoor activities with my dogs and by golly, I'm off to a good start. Together, we've hit about 5 hikes in the last two weeks and it's been absolutely wonderful. So, in an attempt to push you towards hiking or encourage you to take your pet out, check out my experiences (and photos) of the trails I went on recently with Blue.
Huntington Dog Beach, CA
Length: 6.5 Miles
Level: Easy to Moderate
What You'll Need: Water, Portable Water Bowl, Towel, Dog Collar/Leash (not required)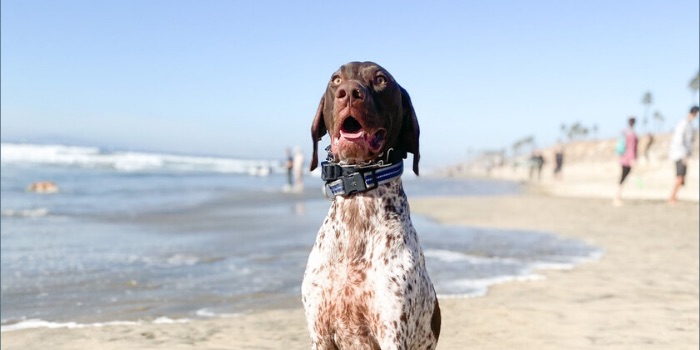 Out of all the hikes I've been on so far, Huntington Dog Beach was by far my favorite because of its flexibility and versatility. You can do SO much here, which made the entire experience feel unique and customizable to what Blue and I were looking for.
We started off on the walking belt that overlooks the beach. The walking belt is a concrete pathway that has bikers, runners, and other dog walkers on it. It's a steady path, with some hills and curves to it. You can even find some squirrel and rabbit friends in the bushing lining the walkway (all of which Blue LOVED).
If you are looking for a more peaceful or intimate experience, this hike would not be for you. However, if you are looking for an opportunity to enjoy some incredible ocean views, meet new fur-friends, and spend some time off-leash with your dog, GO HERE.
North Talbert Trailhead, CA
Length: 4 Miles
Level: Easy
What You'll Need: Water, Portable Water Bowl, Dog Leash/Collar (required)
The best part of this hike is that it's quiet, secluded, and mostly flat grounded, making walking or running really easy. It's not entirely busy, but there are bikers and the occasional dog-walker that will pass you. The path itself runs between a salt marsh, filled with flocking birds, and hilly grassland-so you're able to experience different scenes of nature depending on the route you take.
While you'll inevitably see the same sights (like most hikes) on this particular trail, I found myself pleasantly and consistently interested in the land around me – because most of it was all different.
For anyone looking for a peaceful and easy walk on solid ground, this is the hike for you.
Quail Hill Trailhead
Length: 2 Miles
Level: Moderate
What You'll Need: Water, Portable Water Bowl, Leash (required)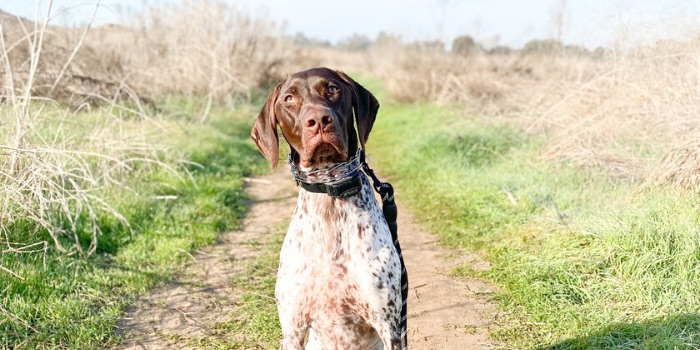 This hike was B E A – utiful. Absolutely beautiful. The trail itself consists of a dirt path that curves and lifts with the hills. Both green and golden grassland line the trail, making you believe that you really are in the country somewhere. Along the road though, you'll see some great city views that bring you back.
Overall, this was a lovely hike. It wasn't crowded and there were plenty of places for Blue to sniff and wander without getting into mucus trouble.
The hills and somewhat bouncy path can make this hike a bit more moderate, but you can take things nice and slow with no problem at all.
Colorado Lagoon, CA
Length: 2 Miles
Level: Easy
What You'll Need: Water, Portable Water Bowl, Dog Collar/Leash (required)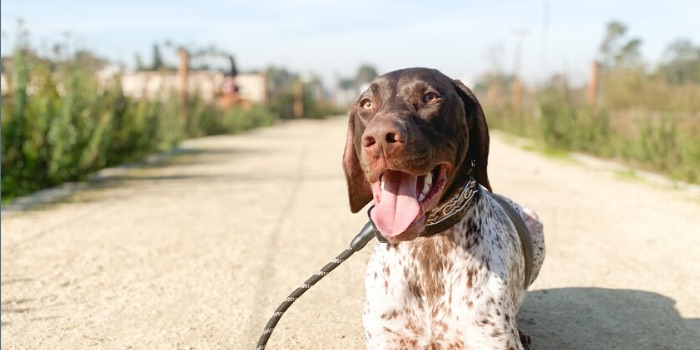 The Colorado Lagoon is a small loop of trail that circles a lake, where you can see birds, small wildlife, and even humans fishing. It's incredibly peaceful and relatively flat-grounded, making it an extremely easy hike to do with your dog.
Overall, I enjoyed this hike for one reason and one reason alone. The birds. Blue was so invested in the birds that he'd drag me to little spots and practically force me to breathe in the nature. I honestly found myself noticing small things out of his curiosity that would have surpassed me otherwise.
George F. Canyon Nature Trail, CA
Length: 2 Miles
Level: Easy to Moderate
What You'll Need: Water, Portable Water Bowl, Dog Collar/Leash (required)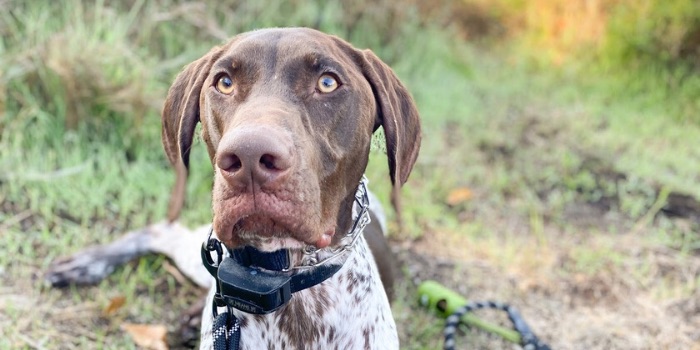 The hike was also incredibly beautiful and had numerous vista points along the way, including gorgeous mountain and top-of-the-hill views.
It's a flat-grounded hike but does have some incline to it that can make it a bit moderate. However, have no fear! There are benches and stumps placed along the trail for your ease.
It's secluded too, allowing you to really take in nature for what it is.
So, there you go. Although it is extremely early in the year and resolutions do tend to die out, I can honestly say that this is an activity that I will keep up, simply because there are so many reasons why I should. It's good for me, it's good for my dog. Heck – it's even good for nature. Besides, hikes are wonderful opportunities to capture moments of pure joy on your dog's face.
One of the most surprising and eye-opening parts about hiking with Blue, however, was that his curiosity fueled my own and I found myself noticing smaller things about the trees and the land, things he insisted on smelling and pushing me toward, that I would have overlooked had it just been me.
Do the benefits of having a dog ever end?
Now, for those that do not have an animal of their own to walk or perhaps not one that's an active candidate for such exercise, I have a solution for you. Visit your local shelter to see how you can better a shelter pet's day by offering to walk him/her. Most animals in shelters have been there for several days and nights. There are some that have even been sitting in their kennels for weeks. Offering an hour out of your day to give your company to a shelter pet is a kind thing to do.
So in the spirit of this wonderful month, I urge you to consider taking your dog on a hike. If you don't live in California and can't access the hikes that I went on, simply research ones in your area. I assure you there will be PLENTY.
Now, go on and take a hike (with your dog).
Related Articles: