New York City aka; the "concrete jungle", a place where you can experience Broadway and enjoy chopped cheese just around the corner. Even in a crowded jungle of people, New York offers perfect areas of opportunities to bond just for you and your furry friend.
The city is so dog-friendly with dog parks in all five boroughs, there are many places to stay when you visit that allow your bestie right on in. We highlighted some pawsome Airbnb homes, rooms, hotels for you and your pet to enjoy during your stay in the "Big Apple."
Studio Living
Nothing screams New York Living like staying in a cozy studio space for you and your pet to enjoy. Located in West Village, this space offers a quiet and safe environment to get away from the city noise and relax.
This Airbnb Studio stay is near all the major subways and is walking distance from all of the important spots to visit in Manhattan. You and your pet will enjoy the small distance away and all of the small walking distances to keep you and your furry friend active during your NYC stay.
Check out this NYC Studio Stay
NYC Staying In Style
What better way for you and your pup to enjoy NYC than to enjoy it just a short walk away from Central Park? This Airbnb hotel room stay offers the overall luxury experience from restaurants just outside your door to almost every hotel amenity you can think of.
What drew us towards this stay was their opening line referencing furry guests: "Dogs are family too. We would never ask you to leave your furry (or not furry) friend behind! Your pup is always welcome at our place!"
Book your next NYC Hotel Stay here
Skyline View
If you're going to make the trip to New York with your pet then you both deserve to have a constant view of what the city of lights has to offer. Check out this Luxury 2 bedroom top-floor apartment with your very own private rooftop terrace featuring gorgeous panoramic views of Downtown Newark and the New York City skyline.
Not only is the view gorgeous but this space is just walking distance from Lincoln Park, museums, and even university campus'. This space is perfect if you, friends or family and your furry friend want an unforgettable vacation.
Book this Skyline View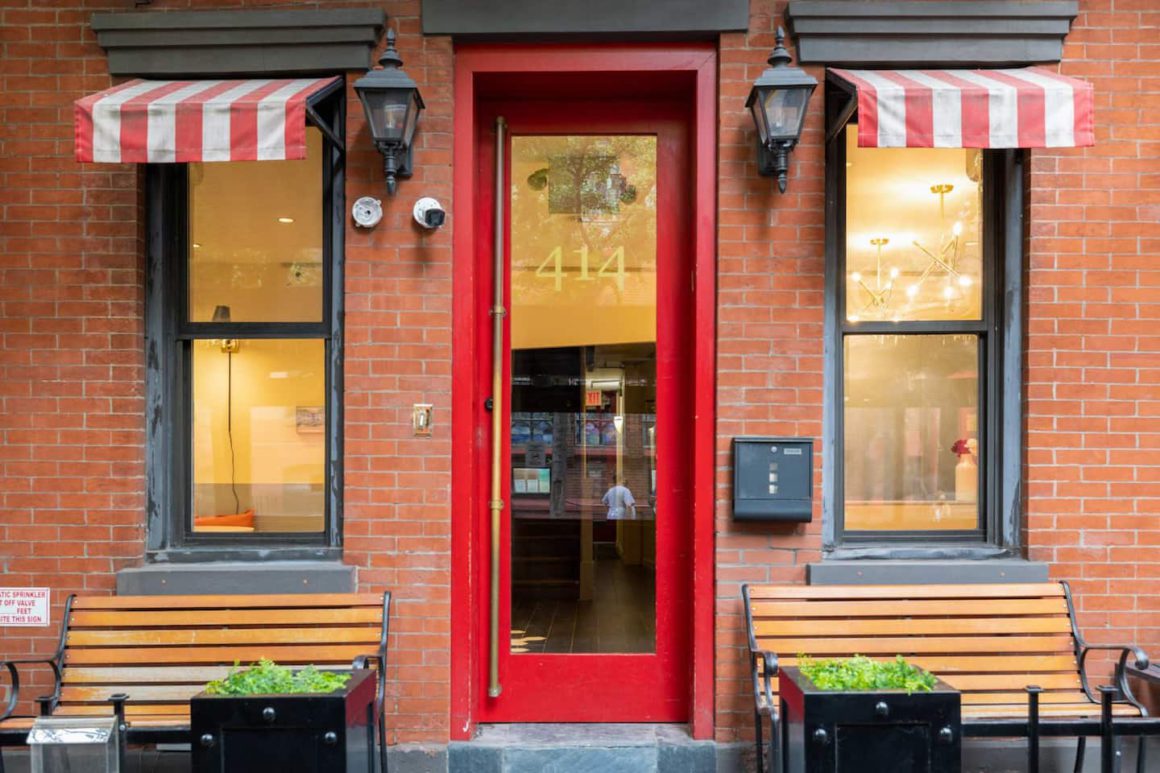 Steps Away From Broadway
If you and your pup are traveling to New York to make it on Broadway, then we have the Airbnb stay for you! This apartment is not only within walking distance of Broadway, but it's also within walking distance of Pier 83 for a sightseeing tour.

This stay offers so much for a great price! Make memories here by walking towards Times Square and the Rockefeller center, which is only just minutes away.
Book the Broadway Stay
Historic Home in Staten Island
The Magnolia House was dated back to the 1830's making it a historic stay. Magnolia House provides a historically authentic experience for you and up to 6 guests, including your furry companion. If you're into history and are looking for some research on New York, this is the place to stay.

Magnolia house is just a quick 10 min walk from the Staten Island Ferry that accesses all of Manhattan. This home was also the headquarters of the independent press "Blood Moon Productions." Blood Moon Productions won the "Best of Staten Island " award and became widely known for their celebrity biographies which have been reviewed by many known journals such as The NY Post, The Daily Mail, Etc.
This place is so historic and offers so much to learn from, it's perfect for you, your family, and your furry best friend to enjoy.
Book the Magnolia House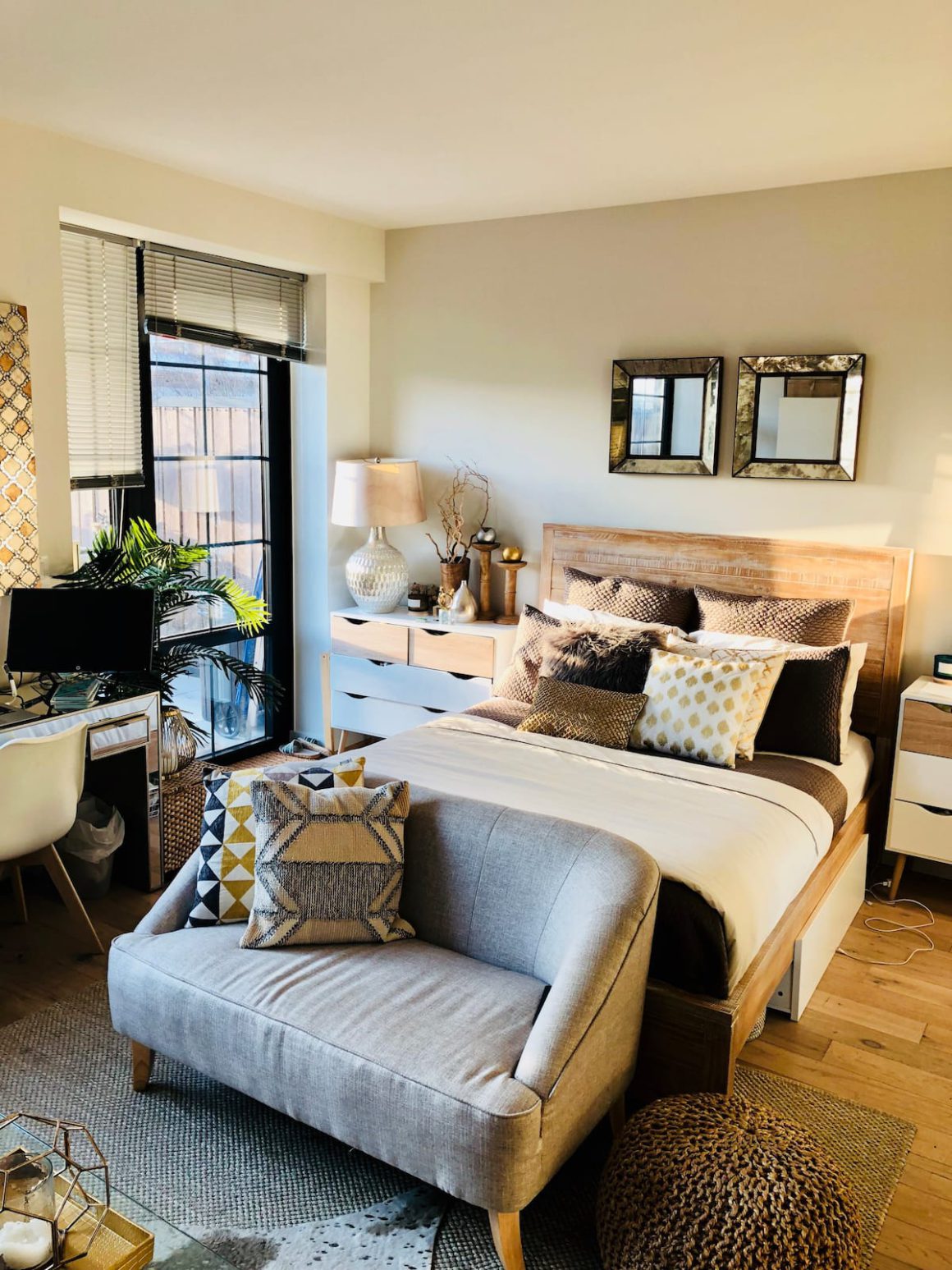 Sundrenched Studio
If you're a morning person, love the outdoor breeze, and enjoy some cozy alone time, then this is the studio space for you. This studio is big enough for two guests and a pet and offers a complete NYC living experience. This space is perfect for hosting guests on the sunny balcony, and the apartment complex offers so many wonderful amenities, including a gym.
This studio space is close to all the major subway lines as well as a quick walk away from Midtown. If you're looking to stay in NY for a few days, we definitely recommend this cozy sunny space.
Book the Sun-drenched Studio
Condo With Magic Backyard
This Brooklyn condo offers 1000sqft. of sun and comes with it's own private garden, BBQ, ping-pong table, and so much more. This space is big enough for 3 guests and your 4 legged companion to run around and enjoy. This condo is perfect to host guests and make some memories with the family. Your dog will thank you for booking a space with it's own private backyard and so will everyone else with all of the amazing amenities it comes with.
The space is so magical, at night, you are in the center of the city and the lights all imitate the stars. This condo even comes with smart home features and black-out shades for a little bit of privacy. So if you're staying in Brooklyn and are looking for a spot that will benefit you and your pet, then this is the place for you.
Book the Magical Backyard Stay
New York is filled with so many amazing things to experience for you and your pet! Since everything is practically walking distance, your pet will enjoy all the smells and sites on their daily walks to all sorts of places and adventures. New York is for everyone and offers amazing places to stay for whatever you're into. We hope when you and your pet visit New York, you will stay at one of these Pet-Friendly places to create the most fun memories. Share with us if you do! 
There are more travel spots to explore:
Pet-Friendly Airbnbs in Florida
9 Pet-Friendly Airbnbs Near Austin, Texas