Dog meets cat, cat meets dog – now you are the best of friends! That is what we would say, but nothing in life is that easy. So, you're looking to introduce your favorite canine to your favorite feline and you're expecting chaos, huh?
This is a process for sure. But it shouldn't be impossible to achieve at least a safe space for both your dog and cat. We've put together a simple guide for you to follow to understand the best ways to introduce your pets.
Consider with CUDDLY: How to introduce a dog to a cat
Can dogs and cats actually get along?
How to socialize
Common mistakes to avoid
Best practices for introduction
Can Dogs And Cats Get Along?
Of course! There are plenty of cases where dogs and cats get along like the best of pals. While each instance is different, it is possible to create a calm, equal environment for both pets. You can work to create a completely safe environment by keeping a watchful eye on behavior and any habits that may form.
You may even find that your dog and cat get along quite well! We've all seen videos of different animals snuggling, playing, and generally being best pals. There is hope for these situations! The best we can offer is to keep a level head and stay as calm as possible. Animals are often incredibly intuitive and can understand our body language far beyond what we probably assume.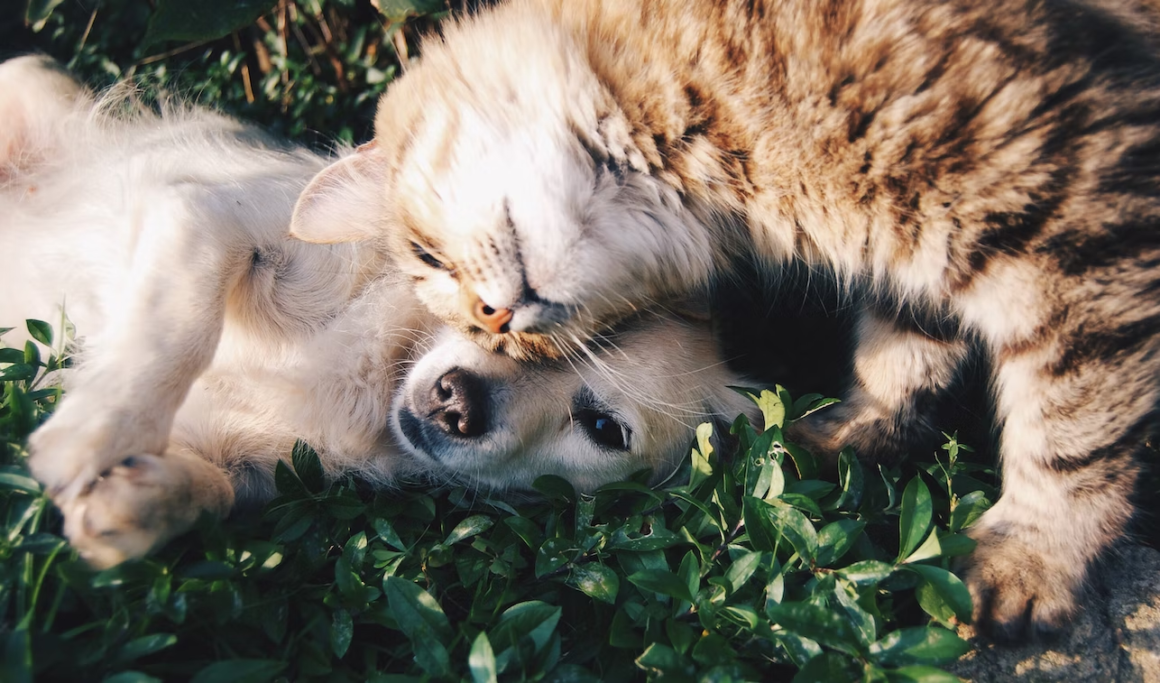 What To Do Before The Initial Meeting
Get organized and have a plan! You can avoid any potential crazy moments by planning out how you want to introduce your pets. Think about the space you have. Is it all tight corners and obstacles? You probably want to create a space to allow your pets to feel less restricted.
Perhaps consider having a few trusted family or friends there to help if you have a rambunctious pet or a grouchy pet. A lot of this depends on your knowing and intuition. This may sound like vague advice, but trust that you know your pet and how they will react to certain situations.
The bottom line is that you want to set both pets up for success. Give them space to feel the other pet, and remember that not all great relationships start out great! Things take time and your diligence, preparedness, and love will have a great impact on how comfortable your pets feel.
Think About Socialization Early On
Before you think about socializing your dog and cat with one another, think about if they have been socialized ever before. For example, if you have a pet from an early age, you can take the steps to socialize them with other animals. However, this could be difficult if you adopt a dog or cat that comes from a previously traumatic background
Make Safe Spaces
Think about how you handle new environments. It's difficult to find your footing when you feel everything is up in the air. You can help your new dog or cat to feel more comfortable by creating a special space for them to feel completely safe and separate from your other pet.
For your dog, think about using their crate as a safe place to sleep or relax away from any outside chaos. You can even add a nice blanket, pillow, or some toys to your dog's crate (as long as they aren't in that teething, destructive puppy stage, of course!).
For your cat, think about a similar crate, cat house, or even a cat condo. This is a separate place, usually higher up than a crate, so your cat has a place to relax as well. You can also add in a fuzzy blanket and some cat toys for additional.
Separate Food And Toys
Even if your dog and cat are getting along well, it's best to keep food and toys away from one another. This means probably separating feeding times, and even considering putting their items in separate rooms. This will eliminate the risk of a fight or aggressive behavior.
You want to set your pets up for success, and in many ways, they act a lot like siblings over time! Even if they don't get along by snuggling or playing, they should be able to have mutual respect for one another's space. You can supervise food and playtime, but it's generally safest to keep most of these activities separate.
This is super important for treats and even the litter box as well. You'll want to supervise most of these activities.
Common Mistakes To Avoid When Introducing A Dog
While the size and temperament of dogs do vary quite a lot, your dog will most likely be a bit more rambunctious than your cat. For introductions, you may want to keep your dog on a leash to avoid any extra jumping. Your dog may mistake your cat for a similar play pal, so it's best to help them realize that cats generally play in a different way. They also often don't appreciate rambunctious play!
Introducing Them Too Quickly
Introductions should be things to ease into, not things to be forced. Both of your pets already sense any new energy. They understand when something has changed so it's best to give them time to acclimate before forcing an introduction from the start.
You can ease into this by letting them get a sense from afar of whom the other pet is. Let them get used to their smell before initiating closer contact. If you are inclined to let them smell one another, you should probably have another person there to monitor them as well. Don't force or have expectations of this meeting because it takes time to acclimate!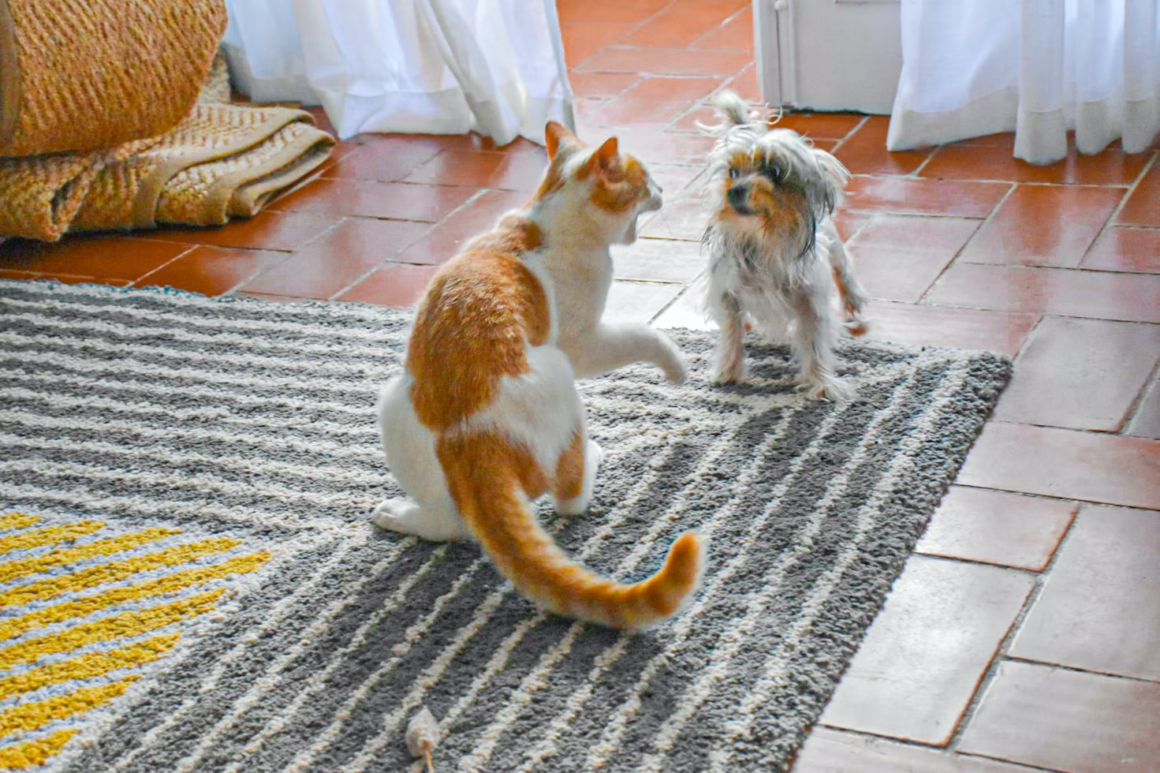 Expecting Too Much
While we would all love for this introduction to go swimmingly, it's okay if it doesn't bring much. Again, an uneventful meeting is better than a fight or one/both showing signs of aggression.
Keep your expectations limited, which may sound harsh, but it will help you keep a level head in the days that follow the initial introduction. It will take time to figure out boundaries and even to change up any existing routine. And that's okay! It's okay to ease into this new ecosystem between your cat and dog.
Leave Them Unsupervised
This is probably the best advice you can count on keeping. It's best to continue supervision long after the initial introduction even if both pets are showing signs of enjoying one another's company. You'll want to supervise when they eat or play as well to avoid any potential signs of aggression.
Many times, owners believe that their pets are fine with one another and then a fight breaks out. You can work to control this by always keeping a watchful eye. You should also continue to utilize separate spaces if possible. Perhaps even think about a camera for times when you are gone. This way, you can check in and monitor how they are when you aren't in the room. However, it may be best to have at least one pet crated for those times to start.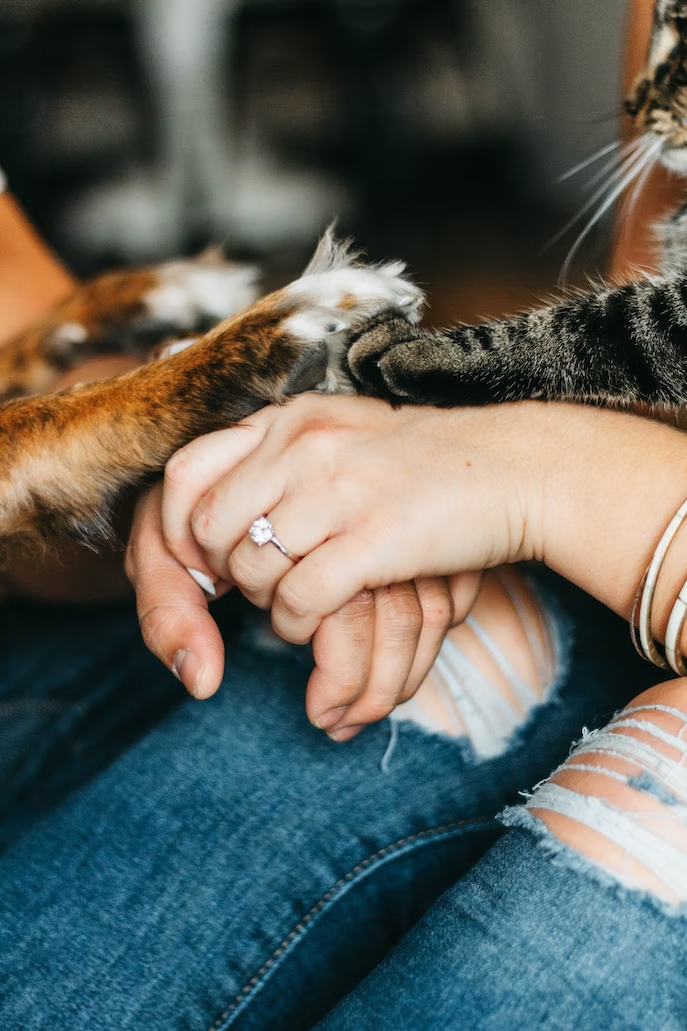 Best Practices When Introducing A Dog To A Cat
In terms of best practices, think about how you would like to be introduced to someone new. None of us like a chaotic situation where we feel unsafe or guarded. Your pet will most likely feel the same. Think about your cat in this situation too. Just as we mentioned putting your dog on a leash, you may want to think about how your cat responds to new situations.
If you have a cat that loves contact with people, think about holding them in some fashion, so they feel protected when they initially smell a new dog. However, if you have a less-than-cuddly feline, keep in mind if they like to swat things away and avoid any unnecessary scratches by keeping their distance.
Understand Boundaries
Just as humans create boundaries, your pets need them as well. Think about non-negotiables like if your dog has a toy they love – keep it away from the cat. And vice versa. If your cat has a toy or spot they like to feel safe then think about keeping your dog away from that item/spot to start.
You need to implement good behavior and respect boundaries for your animals to do the same. These small, yet effective habits will preserve peace and perhaps even create a mutual respect for both.
Read Body Language
Often, dogs will show their teeth or change their face to show their displeasure with the situation. If your dog shows signs of aggression, then remove them from that situation to a safer place. In turn, cats may show teeth, stand differently with their backup, or even have their hair stand up if becoming aggressive or irritated. Again, you'll want to remove them from the situation rather than force anything.
Reinforcement may be super effective in this process. Extra cuddles and words of affirmation in a positive, upbeat tone can help to keep your pet calm and more willing to be open to a new friend. And while they may not be BFFs to start, they certainly don't have to be foes!
Out Of Reach, Not Out Of Sight
The initial meeting may not be what you envisioned. Sometimes sectioning off areas with gates or keeping distance behind a glass door may be effective to get a sense of how they'll react. You can utilize their sight and smell rather than have physical contact be the first step. This can be useful if there is a large size difference between pets or if one is older and the other is much younger.
What To Do If Nothing Seems To Be Working?
Seek help from professionals! Reach out to your vet's office and see if they have recommendations depending on breed, size, or temperament of your pet.
You can also seek out behaviorists and trainers to help with this introductory process. Never feel like you are on your own, there are always resources to help you through!
For additional pet health and wellness information, check out the CUDDLY blog!