Walking my kennels, it's easy to forget that some of these animals have been passed by day after day, year after year. This can go on for years, just because an animal wasn't wagging their tail at the exact moment they should be.
We're highlighting some amazing (and totally adoptable) dogs who have been waiting for a family for a year or more. If you are looking for a new family member, we encourage you to reach out to see if one of these dogs could be the right fit for you!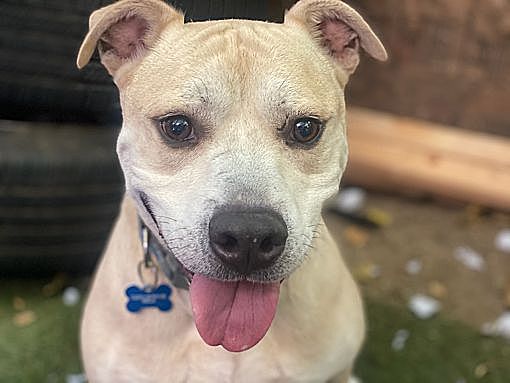 Hogan – Ozzie and Friends Rescue
Hogan is ready to love you and be your loyal companion! Follow his Instagram @Hogan_the_rescue_dog_
Hogan is 6 years old and is a curious, playful boy who is so excited to play with you. He enjoys chasing balls, and playing with his toys are his favorite pastimes besides snuggling up to his humans. He is highly intelligent, loves the sun and the outdoors. He takes treats very gently from your hand and loves bones. Although crate trained, Hogan is a big baby and prefers to be hanging loose. He is food motivated and highly trainable. Hogan loves his car rides, walking with his human and is great on a leash. No small dogs and not cats for Hogan!
Please consider this playful, outdoorsy boy to be your best friend. Hogan would do best being the only dog in the home. He will need a strong handler and someone who will keep up with training to ensure he knows who is boss! Hogan truly is a sweet and loving dog and he has such a goofy personality! Hogan knows place, sit, down, no pulling, and stay. He goes to our Sunday trainings and does great, he shows the other dogs how it is done! After being with us for 2 years we can confidently say that this boy is fully trained and he is ready to be a loyal companion to his forever family! He is not opposed to learning new tricks and actually enjoys to learning new things! He is such a goofy dog and he absolutely loves toys and always wants one in his mouth.
Overall, Hogan is amazing dog that will fit in to many different home styles! He may be destructive when it comes to his toys, but we have had no issues with him trying to chew anything up in the home. Hogan is housetrained! He loves to hangout and be with his humans. He loves to hangout on the couch and is a very well behaved gentleman.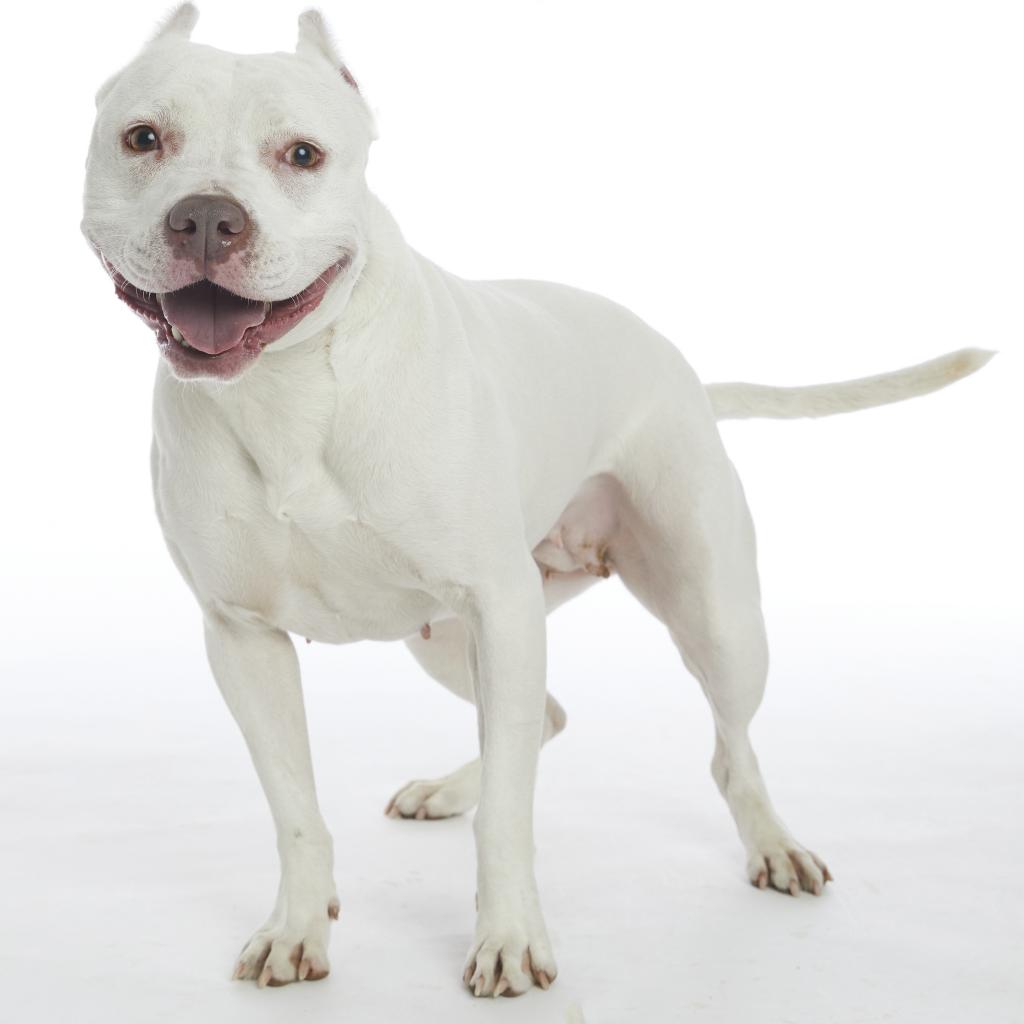 Sugar – The Love Pit
Sugar is the sweetest girl around. As you can see by the smile on her face, she loves people SO MUCH. Her favorite thing in the world is getting pets (especially on her belly!) and giving kisses. Other favorite things include cuddles, bones, and deer antlers.
Sugar is a pocket pitty who loves meeting new people and getting lots of attention. She would do best as the only dog in the home. Not cats please.
Sugar has been waiting 1.5 years to be someones forever best gal and can't wait to share all her love with them.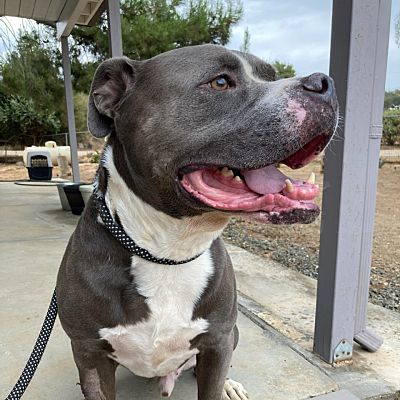 Kane – Ozzie and Friends Rescue
Kane is a stunning American Staffordshire Terrier that weighs just over 70 pounds! If you live in a female household this is the guy for you!
Kane is going to need a strong handler and someone that is going to keep up with his training. Kane loves going on hikes and would make a great companion for someone who will travel with him often! Despite his age, Kane has lots of energy which makes him the perfect travel companion. He loves car rides and does amazing in the car! He is ready to go on endless adventures with you! He is a goof ball, and loves to put on a big ol smile, teeth, tongue and all! If you want a dog that is going to make you laugh every single day, this is your guy! He likes to chew up toys so he would need some tough toys that make him work for it! Kane is a total ladies man, and really only warms up to ladies so we recommend an all female household.
Kane has been in training for over a year, he is fully trained, and he is housebroken! Kane knows his sit, down, stay, and duration in place! He comes with some free training lessons. We have no idea how this amazing boy keeps getting overlooked.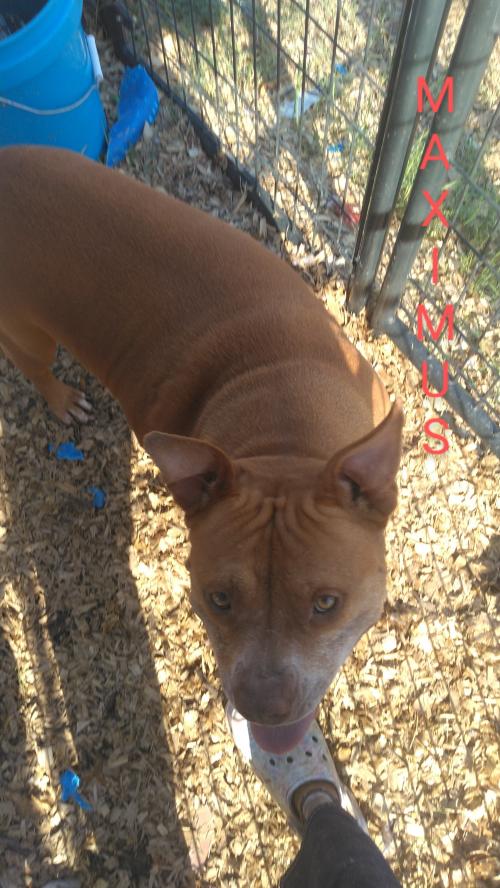 Maximus – Justice for Samson Animal Rescue
Maximus was one of 8 saved from the same property. The other dogs were allowed to run free. Maximus was kept on a short heavy chain by the woods. Far from the house. The owner of the animals moved and left all 8 dogs. The land lord began to shoot them.
The neighbors warned me i could not get close to Maximus. I walked straight up and unchained him. My reward was hugs and kisses.
Due to Maximus circumstances he can be the only dog in the home.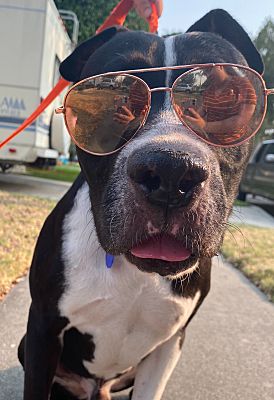 Gordo – Ozzie and Friends Rescue
Gordo is a gentle giant that is ready to make you smile every single day!
Gordo is a fully trained couch potato that weighs about 85 pounds. Gordo comes with some free training lessons. He loves his toys, especially balls of all kinds. Strong and athletic. Loving and loves peanut butter and carrots. Gordo has such a goofy personality, he is always rolling around in the grass and bedding and he gets so happy and excited to do it! He also loves to carry his food bowl around to let you know that its time for food. He loves to cuddle and be near his humans. This Gentle Giant always loves to walk around with his toys. He is gentle while taking treats from hand and isn't food or toy aggressive. Gordo is high energy and loves to run around. Gordo only gets along with female dogs! He is also the kind of dog that is going to need a very strong handler, and someone that is experienced in the breed. We would prefer Gordo to be the only dog living in the home.
Gordo has been at the rescue since 2017 and is the oldest resident here at Ozzie and Friends Rescue. He is a staff favorite, which how could he not be? He is amazing! He loves to get belly rubs and loves all people, including children! Gordo would make a perfect family pet. He is very loyal and makes everyone that he comes in contact with smile and laugh. He will give you kisses upon kisses and is one of the sweetest dogs on the planet, there is no mean bone in his body when it comes to humans. Wont someone give this gentle giant a chance at a forever home?
Gordo is FULLY TRAINED and comes with free training lessons! He knows sit, down, stay, place, and he is also crate trained! He is also housebroken and has been living with a foster for a year now so he is fully adjusted to living in a home!
Learn about other ways to help animals:
BIPOC Representation in Animal Welfare
10 Things You Didn't Know About the Dog Meat Trade