Loving your canine companion and sharing valuable moments with them are guaranteed daily doses of happiness. If something changes in their demeanor, you are the first to notice.
Maybe your four-legged friend has been lounging around a bit more than usual, not so interested in playtime, jumping or heading up the stairs or clumsier than usual, bumping, walking into walls or furniture. And then you notice your little buddy is also pawing at their eyes and blinking up a storm. So you look closer and feel like something is up; a bluish-gray, maybe a circular whiteness has started to grow.
Cataracts (or clouded lenses of the eye) are among the most common causes of sight loss and blindness in dogs, and self-diagnosing or spotting it without a professional presence is trickier than one might think.
Canine eyes are similar to people's; they also have corneas, lenses, pupils, cones, and rods that all do a job just like ours, except dogs see objects and things a bit differently than humans.
The light-sensitive retina is located in the back of the eye and houses two kinds of light-responsive cells called light cones and rods. Cones assist with how colors and detail are perceived, whereas the rods capture motion and help in low light.
So how do you hear your little friends move around in the night sometimes without any problem whatsoever—this is because dogs have what is known as rod-dominated retinas, which is why they can see so well in the dark. Not only that, but dogs also have more incredible motion capture ability than people—even the placement of the eyes on the head can be a factor.
Sounds cool, having all those almost super dog eye abilities. There is just one catch; your beloved furry pals have just a fraction of the abundance of light cones compared to humans. Meaning they do not see color the same; moreover, in human terms, they are colorblind.
Canines' retinas can identify two colors: yellow and blue-violet, as well as various shades of gray, but cannot distinguish green, red, yellow, and orange. So instead of just color, they utilize their power of smell, brightness, surface texture, and perspective.
In that, how would a guide dog know when the streetlight has changed colors, and it is safe to proceed? First, the sharp canine will assess the brightness and light fixture itself, along with the change in sounds of people, traffic, etc., to decide when it is safe to go. A la a harmony or balance with sight and sound, almost relying on not just the eyes, but the senses as well to see.
Cataracts Causes and Symptoms
If an eyeball is healthy and functioning correctly, light enters the cornea, the big clear screen on the front of the eye, and then the lens, the disc-shaped shield behind the iris (the color in your eye), acts as a protector and regulates light to the retina. Vision impedes when the cornea is damaged, affected, or not doing its job correctly. The lens, when not obstructed, lets light into the eye, focusing light upon the retina, creating a solid image.
When there is a cataract, the lens has gone cloudy, or what Dr. Matthew Fife of the Veterinary Ophthalmology Center in Orlando, Florida, refers to as "an opacity, or imperfection, in the lens of the eye affecting the passage of light into the retina."
Dr. Fife also explains how "the lens is comprised of specialized cells that produce fibers made of protein" and that "cataracts occur when the cells or protein fibers are damaged."
Having a cataract does not always mean your vision is affected or that you have a sizeable opaque dish behind the iris, or the black section of the eye now has a white cloud. The condition can be minor, unnoticeable to more considerable, and more serious, causing vision loss or total blindness.
Before you race to any conclusions, know that there is a chance it can be what is called nuclear sclerosis, a kind of fogginess produced by a toughening of the lens that dogs experience as they get older.
Nuclear sclerosis does not affect vision as light is unobstructed when entering through the lens. So your beloved furry one may not see as well but won't be running into tables or couches anytime soon. Unfortunately, many dog owners see nuclear sclerosis and think it is cataracts, so it is essential to see your trusted vet and ask if such a condition arises.
Eyes change as both you and your furry friend grow older. If the cloudiness does begin to appear, it may remain little and grow slowly or rapidly if the underlying cause is diabetes (as much as 75% of diabetic dogs may get a cataract in under a year of the disease, and it moves fast). It depends on the underlying condition and location within the lens also.
Moreover, there is always the possibility of primary or secondary glaucoma, which is when the eye drainage system that regulates the aqueous fluid (washes and replenishes the lens, regulates eye pressure) is malfunctioning resulting in elevated intraocular pressure).
Primary glaucoma is an inherited condition that affects the drainage cycle of the eye.
Secondary glaucoma is due to an underlying disease, like advanced cataracts or even an injury of some kind.
Cataracts untreated in dogs can also cause lens luxation when the eye lens moves around and out of normal position.
And if cataracts dissolve on their own, painful, heavy inner-eye inflammation will occur that can lead to sight loss.
Also, there is uveitis, which is an inflammation of the uvea (middle layer of the eye), most commonly affecting the iris. This condition causes pain, foggy vision, tiny dark floating dots obstructing vision, sensitivity to light, and deep redness. Uveitis is treatable with drops, and if there is an infection as the root cause, antibiotics and antiviral meds are available.
Historically, cataracts are more likely to occur in senior dogs, and certain breeds more prone to the condition, such as Cocker Spaniels, Poodles, Miniature Poodles, Siberian Huskies, Yorkshire and Boston Terriers, Australian Shepherd, American Staffordshire Terrier, French Bulldog, Labrador Retriever, Silky Terrier, Miniature Schnauzer, Havenese, and West Highland White Terriers.
However, many more breed-prone dogs are unfortunately afflicted with hereditary cataracts even at a year or younger.
The power of ultraviolet light plays a significant role in developing cataracts in humans and can be part of the root cause in dogs. However, it is a less common cause of the disease; dogs are more susceptible to UV light when they get older.
Some known contributors to cataracts may be:
Diabetes Mellitus (body unable to create or react to insulin)
Hereditary (the breed is prone to the condition)
Another eye condition, like glaucoma
Born with cataracts
Toxic poisoning or exposure to radiation
Severe injury or trauma to the eye
Inflammation due to an underlying cause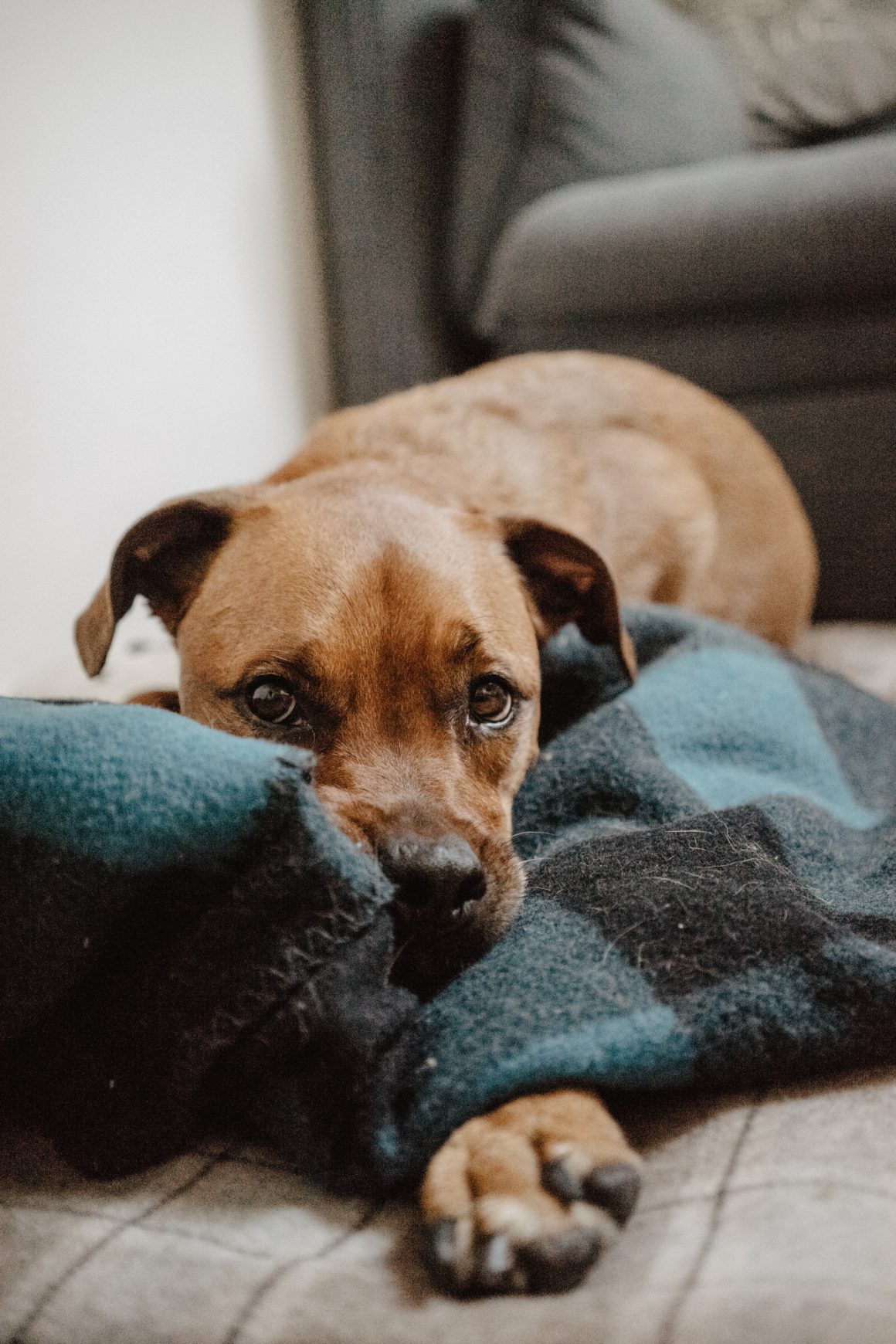 Treatment
Your trusted vet will do an examination of your furry's eyes with a light, as well as blood tests are available to rule out or discover any underlying conditions that may be causing cataracts to form.
Unfortunately, a cure-all eye drop to undo the alterations to the lens does not yet exist. Fortunately, however, surgery, where the lens is removed and replaced with acrylic, can remove the cloudiness and return lost sight in people, dogs, horses, cats, and even your favorite Koi in the pond!
Once the surgery is completed and successful, your baby will have to wear a cone or protective collar to stop them from inflicting more damage on their eyes. Drops will help maintain a good moisture level in the eyes post-op and assist in good healing.
Rest and a low-stress environment will also be critical factors in your dog's recovery, for a few weeks, at least after treatment.
Once your trusted vet has diagnosed cataracts, you and your furry loved one will visit what is called a Veterinary Ophthalmologist who will do a thorough check and decide whether your dog is a good prospect for surgery. In that, surgery sadly is not the best option for all dogs who suffer from cataracts, for instance, glaucoma, inflammation in the eyes, and injured retinas, often signs that surgery will not be a successful situation.
However, if your four-legged friend has diabetes, there are antioxidant eye supplements to prevent cataracts from growing.
Also, if a dog has a secondary condition like severe heart or kidney disease, it is too dangerous to put a dog under for surgery. When surgery is not an option, prescription anti-inflammatory eye drops may help reduce the inflammation for the long haul. Still, they will not aid in restoring vision; however, they can slow down the further growth of glaucoma (glaucoma has its own specifically prescribed drops, too).
If you notice cloudiness big or small in your beloved dog's eye(s), see your trusted vet right away. Your vet will go over your surgery options if it is cataracts. However, diagnosing and treating the condition with surgery sooner than later is paramount as procedures carry more risk for the dog the longer the wait. And even if your four-legged genius is unable to receive surgery, there are medications to help reduce associated problems.
Surgery is expensive and can be thousands per eye, and if there is an underlying condition discovered, that will have to be addressed and may increase your out-of-pocket.
For example, the medical bills for a dog with cataracts due to an underlying condition or the severity level of cataracts can cost you up to $5000, if not more. But if your dog has the chance to see with the torture subsided, then the price may be worthwhile.
Dogs use more than just their eyes to see with; if surgery is not an option, yours still has excellent potential for a happy and fulfilling life, with a lot of love and a little bit of your guidance.
Keep Your Pet at Their Healthiest: