One of the most important parts of being a dog owner is caring for your furry friend's health and well being. A dog's health can easily be identified just by looking at their fur coat. If it's not shiny and clean, it's often assumed that the dog is not living a very healthy lifestyle.
Skin allergies are identified as the No. 1 most common medical condition seen by a veterinarian. While it's important to talk with your veterinarian about your dog's skin and coat, there are several things you can do to make your fur baby's coat look fresh and clean.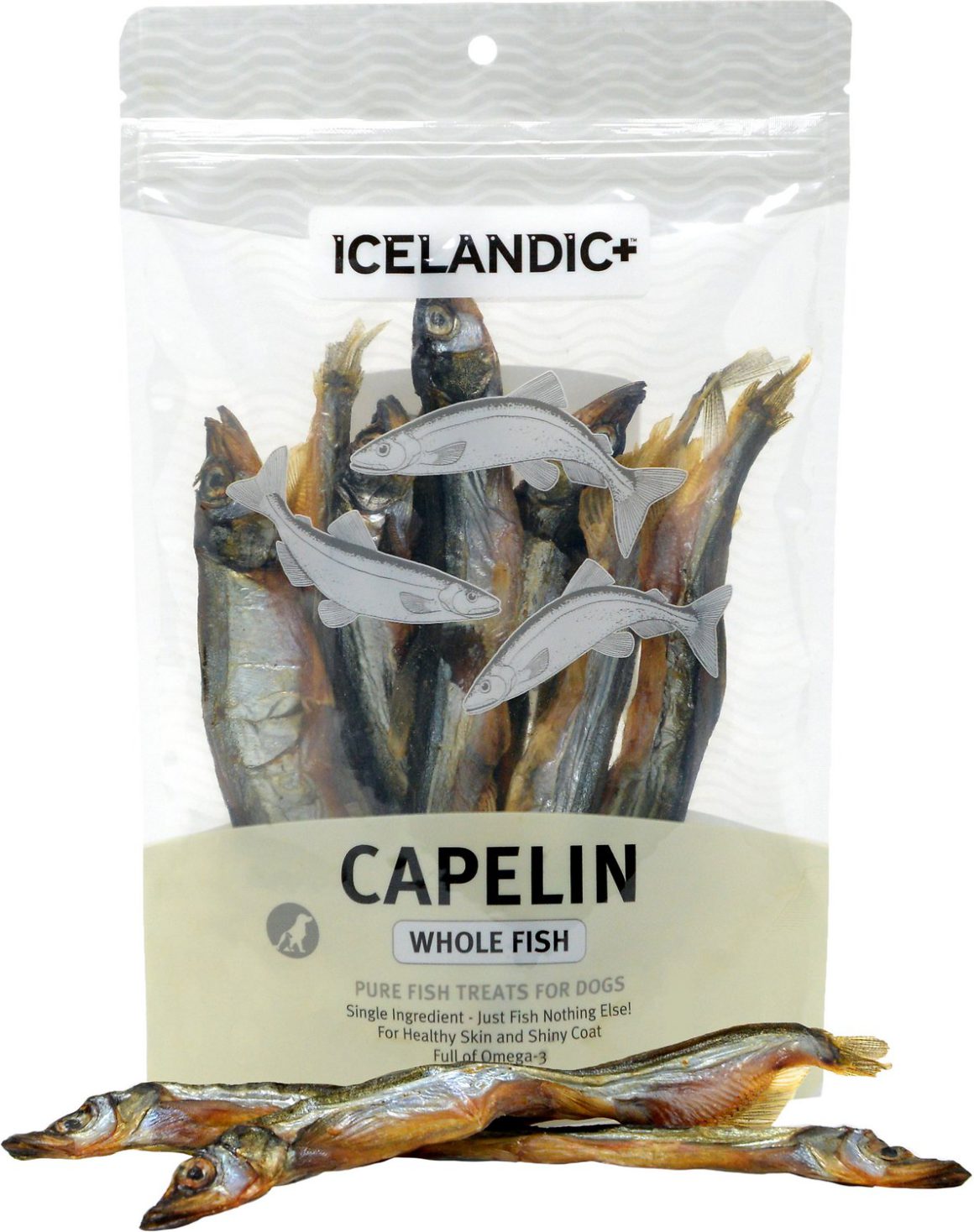 Add Omega Fatty-Acids to Your Dog's Diet
Fish oil is one of the most beneficial supplements to give your dog because it's full of Omega Fatty Acids. These fatty acids not only help make your dog's coat shiny and soft, but they have other added benefits like reducing inflammation and boosting your dog's mood.
One of the best omega fatty-acids that your dog will love is Icelandic+ Capelin Whole Fish & Pieces. This dog treat is made from a single ingredient – capelin.
Not only does capelin help promote healthy skin and coat with Omega-3 fatty acids, but they also reduce tartar and plaque build-up, making them good for your dog's teeth. The other great part about these treats is that they are a single protein source, which makes them a good choice if your pup has a sensitive stomach.
Bathe Your Dog Regularly
The magical number one should bathe their dog is once per month. Unless your dog is unbearably dirty, sticking with this number of baths is important in maintaining your dog's natural oils. The more they are bathed, the more dry their skin will become, leading to a dull skin complexion.
When bathing your dog, it's extremely important to make sure you thoroughly wash out the shampoo or it could lead to more skin irritation. If you've noticed your dog has been scratching more than normal, try giving them an oatmeal bath to help ease the itchiness. An oatmeal bath can soothe your dog's skin and will help maintain its glow. To learn more on how to bathe your dog properly, check out these helpful tips.
Brush, Brush, Brush
Regardless of your dog's hair type, it's important to brush their hair every few days. Brushing helps keep the coat unmatted, feeling soft, and removes all the dead hair particles which will help relieve any unwanted itching.
There are several different brush choices, so it's important to research and talk to your veterinarian to find the right one for your breed. If your dog sheds a lot, you should also look into buying a deshedding brush, which will help ensure your pup always looks well groomed. If your dog is hesitant towards using a brush, try putting some peanut butter on a licking mat to help distract them while you remove all the excessive hair.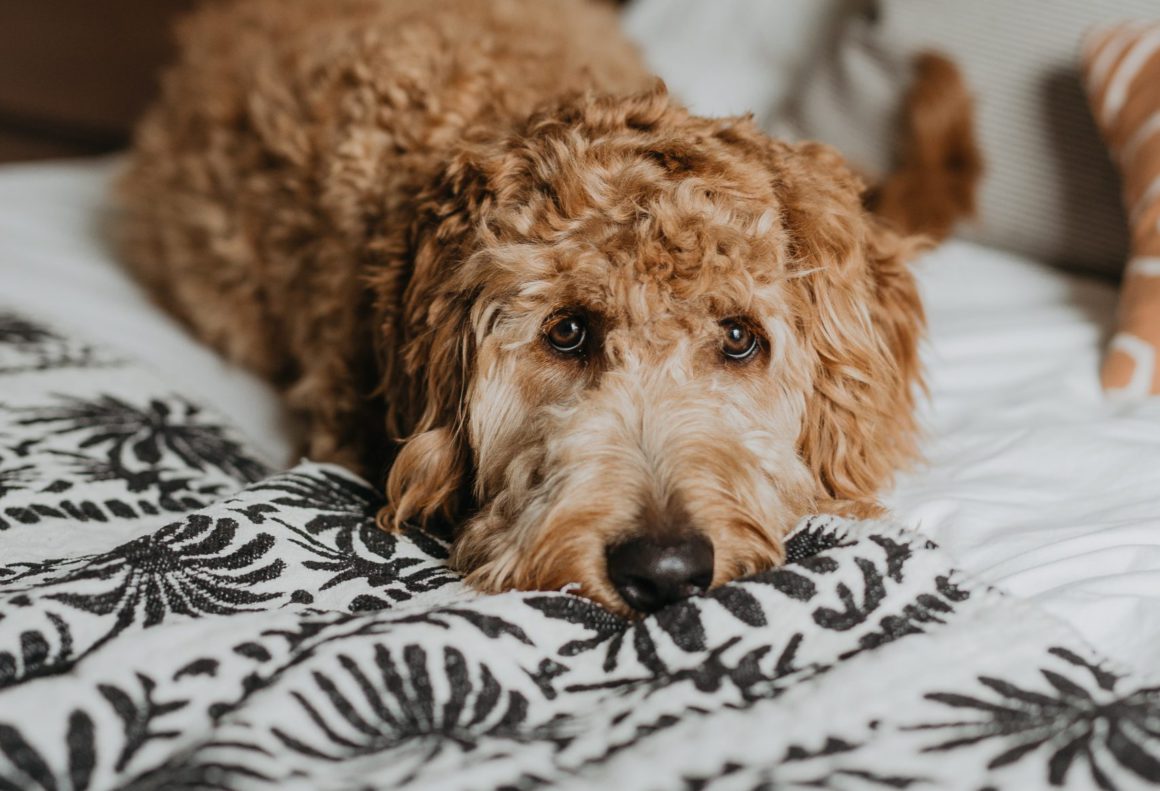 Protect Your Dog Against Parasites
Fleas and ticks can cause the most damage to your dog's coat and cause issues for your dog's health. The soft, warm fur of a dog provides a perfect environment for fleas and ticks if they're not on a preventative. Once a flea gets into your dog's skin, it will make itself at home until it's killed by a flea product or dies naturally.
With the right plan and products, flea and tick infestation is easily preventable. There's a wide variety of treatments including collars, oral chewables, and topical treatments, so be sure to talk with your veterinarian to find the right one for your pup. If you ever notice a tick on your dog, check out this article to learn more on how to remove them properly.
Coconut Oil
A nightly tablespoon of coconut oil can go a long way for your dog. Coconut oil is a good fat with an array of benefits including improved digestion health, immune system support, metabolic function, skin and coat health, and thyroid health. There are so many different ways your four-legged friend can enjoy coconut oil whether it be on their food or as a frozen treat.
Coconut oil can also be used as a topical treatment to help moisturize your dog's skin and make your pup's coat shinier. You can either massage your dog with just the oil or you can mix it in with their shampoo. There are also plenty of dog shampoo options that include coconut oil as one of their main ingredients.
If you've already tried these methods and your dog's coat still isn't looking healthy, it could be a deeper underlying health issue. It's never a bad idea to talk with your veterinarian about additional methods you can introduce to your dog's daily routine in order to keep their coat soft and shiny.
Skin issues are often one of the most common problems rescues face when brought to a shelter or rescue due to the lack of attention they were receiving at home or the infestation of fleas and ticks they may have faced on the streets. Products like Icelandic+ Capelin Whole Fish Treats and medicated shampoo are vital in helping restore their fur and help them live a more happy and healthy lifestyle. Next time you purchase these products for your furry friend, think about donating one to a rescue in need! 
Keep Your Pets Happy and Healthy:
Hairballs and More: What is My Cat Hacking Up?