It's time to get a new dog collar or harness, and maybe you've been down this road before—but it has been a while—and you realize a lot has changed now that your furry pal needs an update. The finding part might appear easy enough to new owners or experienced ones with dated contraptions in dire need of replacement. However, upon strolling down the aisle of most modern pet stores, you may find yourself overwhelmed by all the shelves loaded with various types, training, styles, tools, etc., and different reasons and uses of the many available today. It can be daunting.
You want to style out your four-legged loved one while also keeping in mind safety and functionality. For some owners, that collar is merely a location for the ID tags; for others, that collar or harness will distinguish between adequately controlling leash pulling or other undesirable and potentially dangerous behaviors.
Thus, deciding what type is right for your beloved furry may consist of different factors such as size, breed, material, specific needs, et al.; here are some suggestions to help narrow down which might best work for your loved one.
Collar vs. Harness?
It all begins with how your dog walks with the leash attached to a flat collar. If your pal is excellent, practically walks themselves, contrary to popular opinion, a flat-collar is all right. Although, if you've got a leash-hater pulling and brilliantly discovering new ways to escape constantly, then a harness may be a better choice.
Although considered safe if the dog gives plenty of slack, there are potential risks to flat collars for some dogs:
Neck injury from jerking at a possible trigger (squirrel, etc.)
Relentless pullers choking, damaging trachea; also, owners correcting them to stop
Repetitive neck injuries can cause more severe illnesses, conditions down the line
There is a chance of serious injury to your loved one from the wrong collar, i.e., choke and prong collars are well known to cause adverse complications, such as:
Choke Chain
Spinal cord injuries (possible paralysis)
Crushed trachea (partial or total suffocation)
Neck dislocation
Crushed larynx
Brain damage, loss of oxygen due to cranial pressure changes
Bruised esophagus
Skin or tissue damage about neck
Prong Collar
Prongs or metal spikes can pierce the skin, causing injury
Pain tolerance level rises due to scar tissue about the neck, continued pulling
It can feel like strangling (choke chain too), evoking fear, aggressive behavior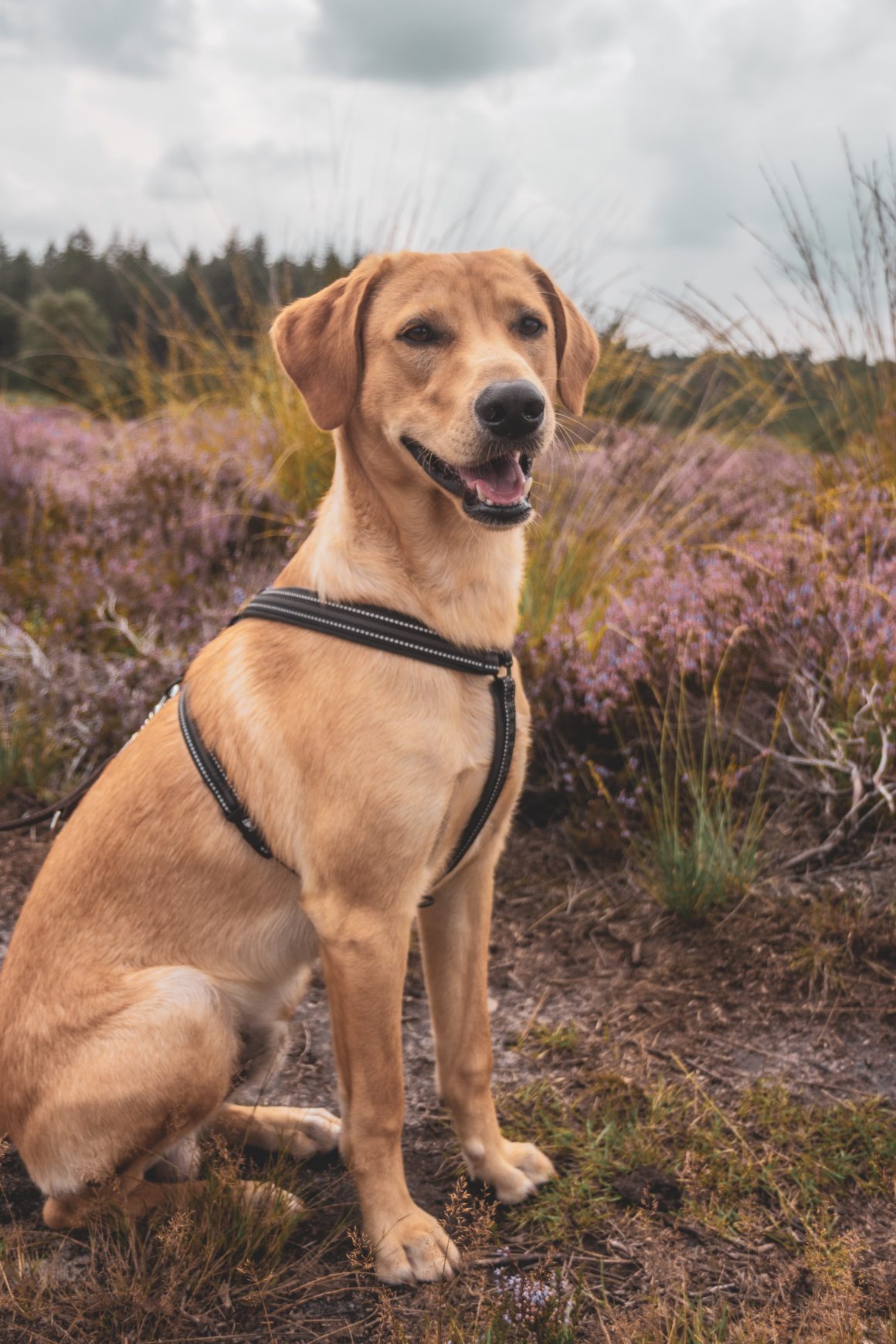 Choosing Collar Size and Type
Use some (soft) measuring tape or string (mark and measure after) and put it around the base of your dog's neck, where the collar will most likely rest. And, always make sure that you can fit two to three fingers in between your dog's neck and the collar. Even more, maybe a few inches for a buckle collar; if your puppy quickly grows into a giant, cuddly, furry monster someday—you're going to need a bigger collar(s).
It is also good to consider the size of your dog; moreover, bigger furry children will benefit from a wider-width collar (one inch or more) vs. little ones that only need something light and delicate without excess weight.
Flat-faced breeds like the Boxer, French and English Bulldog, Cavalier King Charles Spaniel, Shih Tzu already have trouble breathing as it is, with constricted tracheas. Therefore, it is good to always walk these breeds with harnesses as any possible damage to their neck muscles can be extremely dangerous.
If your dog has any of these medical issues, the harness is the better walking option to avoid worsening conditions such as:
Horner's Syndrome of the neck, nerve damage, surgery in the neck area
Hoarse bark, heavy breathing noises, frequent coughing (Laryngeal Paralysis)
Salivary gland problems, or thyroid issues
Wobbler Syndrome in the back or neck location (usually seen in big dogs), causing a strange walking style, a wobbling.
Kennel cough (Infectious Tracheobronchitis), inflamed trachea (avoid pressure)
Please remember to remove the collar from your puppy when you're away. It's easy for puppies to cause an injury by getting a paw or leg caught up in there. Even worse, getting hung up on something could cause bodily injury or death. A scared puppy might panic and thrash about furthering the injuries and danger.
Likewise, removing and putting the collar back on daily will give you a good sense of when your puppy has grown and needs a new one. A collar that is too tight will dig into your four-legged pal's skin, which can lead to infection or damaged neck muscles.
A couple of collar types to choose from:
It will get tighter on your dog's neck from tension; however, it will only squeeze as much as the adjustment allows. This style differs from traditional choke chains as it helps the slip from causing throat damage. This collar is excellent for those furry marauders who are aces at backing out of their trustee flat-collars.
The most common dog helper out there; buckles shut. This collar is what most pet owners use to advertise their dog's tags, records, and identification. However, this option is best for dogs that are chill walkers and aren't looking to slip-slide away.
Great for dogs who regularly roam large areas, such as a hunting breed. The Center Ring has a circular o-ring as part of the collar about halfway through to each end. This technology provides extra give and a pivot point if they become hung up on a tree branch or something and thus will not choke before you arrive to free them. The o-ring also makes it easier to attach a leash to the collar quickly.
This collar clicks or snaps together and holds well when being tugged hard. One upside to these collars is how easy they are to remove if your loved one gets caught or hooked up on something difficult to remove. Unfortunately, however, the same piece of technology easily comes off when the sides of the leash tighten around it.
They come with four different ways to help if you have a nonstop barking furry on your hands, and the technology has improved since the days of "shock-collars" due to the electric zap a dog would receive upon each bark. However, today's advancements offer various disciplinary tactics to quiet an incessant barker. While the correction tends to startle the dog, it is no longer harmful with modern, approved devices.
Remember each dog is different and has a different nature, and one style of correction might work better than another with certain dogs, for example:
Static – this is a slight albeit harmless electric motivation that rallies for your (more stubborn) dog's attention. Your furry barker receives a mild tingling on the skin that stops that bark dead in its tracks. No longer designed as shock-collars, the technology is further advanced and can help train your loud-one safely and productively.
Sonic or Ultrasonic – this creates a high-pitched sound each time your dog barks that is quite annoying just to them—a lighter approach to smaller and more sensitive dogs.
Vibration – a varying series of vibrations that will get your dog's attention via surprise and bring pause. Another suitable method for dogs who are hearing impaired as well as sensitive furries.
Spray – a burst of spray is released at each bark that your dog will quickly associate the usually citronella-smelling blast with barking. A safe and effective product for more sensitive dogs, as well.
Choosing a Harness
It is easier to teach a dog respectful, proper walking on a leash without potentially dangerous side effects if you buy a body harness.
Keeping in mind not just the dangers of a flat-collar for some dogs, but a harness is an excellent substitution to collars, adding control, especially with big dogs, avoiding pain, injury, or discomfort.
Of course, it is imperative to get the right one for your four-legged friend with any item as essential as a collar or harness. But, again, harnesses make it much more difficult for Houdini dogs to escape than ole flat collars, and there are a few options out there.
Front-Attachment Harnesses
This device controls your dog's center of gravity by attaching a leash to the front of their chests. Great for working with persistent pullers who might be pretty sizable (dogs react a bit more welcoming to the harness than head halters), as well, when they pull to move forward, the gear gingerly brings your dog back around to face you. This method of control helps alter the dog's direction while quietly attending to easier leash walking. In addition, the leash attached to the chest area of your dog works wonders in minimizing pulling.
Back-Attachment Harnesses
As the name says, this style of harness attaches to the back of your dog, between the shoulders. Thus, it may not be the best choice when training a leash-puller as they can still take you on a ride down the street if they're big enough. Moreover, lots of furries enjoy the feeling of tugging on that tension stuck to their backs (no choking involved). It just may not be ideal for leash training.
This harness may not be suitable for more antsy dogs as there is a bit of a challenge when putting it on and taking it off. If your dog is relaxed and will calmly comply as you put their legs through the step-in style, otherwise, just going for a walk could take on whole new problems. On the other hand, the back-attachment harness works great for small dogs who might be tripping over leashes or, of course, have sensitive neck areas.
Gentle Leader
Toucan Sam said it best: "follow your nose," and that's precisely the idea behind the head halter-type collars, with a strap that goes around the dog's neck and nose, like a horse's bridle—because, where the snout goes, the body is soon to follow.
Essentially, taking over your four-legged pal's head control is going to turn you into the driver. Moreover, your dog's mouth movement is now restricted; however, they can still smell stuff and open their mouths. It helps curb barking and biting (although a muzzle may prove more suitable with severe biting issues).
Finally, a leash connects a collar under your dog's chin, where you can carefully pull, and the head goes to the side or down. This kind of halter makes it quite difficult for a dog to drag you forward, making them ideal for leash training large dogs (not recommended for smaller or weaker-necked dogs).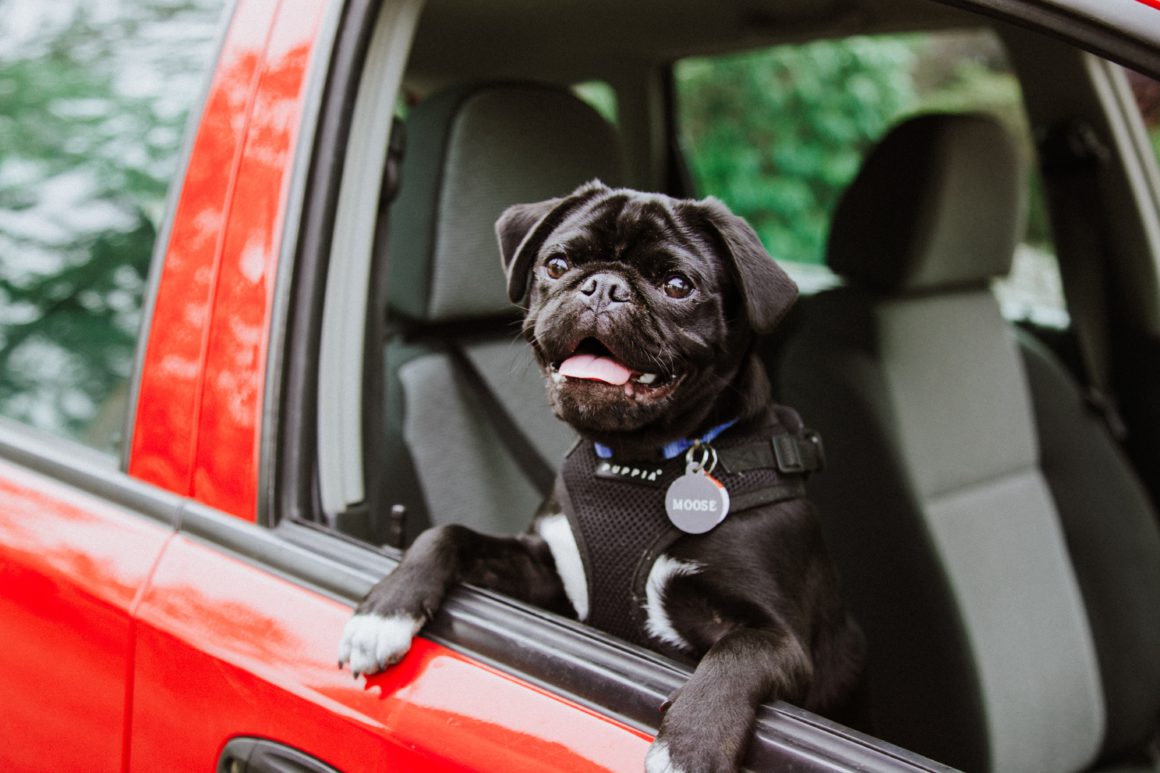 Car Harness for Safety
A harness can also keep your loved one safe and secure while riding in a car. You never know when something might happen that causes the vehicle to stop suddenly, sending your furry pal crashing into something, or you even. For some dogs, who like to race out the minute the car door opens, or even out a window opened too much, having a seatbelt connected helps prevent such incidents. But, of course, never attach a collar leash to a car seatbelt; the risk of all sorts of injuries to your dog is possible.
It is not advisable to bargain shop too low for a harness; even more, the car harness could be the factor between severe injury or death to your dog; thus, finding one that is crash-test approved is imperative.
The Right Material
Now it's time to consider the collar material that is right for your dog—and there are many different types and material mixes to pick from, good and bad.
Nylon
This type is probably the most standard collar material out there, with many colors, styles, patterns, brands, and more in this category. Perfect for ID tags and walks, and there are so many fashionable ones to pick. Nylon is affordable, comes in training designs, poses little difficulty in putting on and removing, and, again, the patterns and nuances in this material are virtually endless. Great for the daily collar and suitable for those evergrowing puppies, as well.
The only downside to inexpensive is less durability, as your pup can chew through the fabric in time, and it has the potential to fray. Nylon collars are also tricky to clean (smelly, carry bacteria after time), and some dogs are allergic to the material itself.
Leather
Good ole leather is the classic dog collar that's big on appearance and usefulness. Pricey, but with worthy leather products, you get what you pay for as they can endure many seasons. It's also advisable to buy genuine leather over bonded leather, as the latter is a collection of different leathers pieced together. Bonded leather may look okay in some cases, but looks can be deceiving as its durability is questionable—the product is, well, inferior to genuine leather. Finally, you can find the leather collar that's right for you in a flat or a rolled style (recommended for dogs with thick matted hair about the neck). Leather is a natural material suitable for dogs with allergies; it breathes and smells nice and is much easier to clean than other materials.
Leather is more expensive, and the fashion statements are somewhat limited with it, plus some of the dyes in cheaper quality brands can bleed out onto your dog's coat.
There are faux leather products out there, but your dog's primary function with this material should be pretty much fashion, as there are lots of different colors and styles available. Faux leather is cheap too, but for a reason, as the durability is nill, breaks easily, and the various color dyes will most certainly bleed and stain your dog's nice furry exterior when wet—best to keep as a fun party accessory.
Neoprene
If the name neoprene sounds familiar, that's because it's the same rubbery-soft material used to make wetsuits, plus there's nylon webbing for added elasticity, durability, and toughness. So if you got a big pup that loves the water, then this is the material for you—not waterproof per se; however, it will maintain cleanliness while also staying less stinky over time than nylon. Like those snug wetsuits, neoprene is comfortable, dries pretty quickly, and is a plus for dogs with those pesky skin allergies. And those big, fluffy swimmers are safe to wear all day due to wicking properties, as well as it rarely gets caught on with thick, long fur.
As neoprene is a step up in design and durability, it is more expensive, a bit more hulking than nylon, with definitely fewer style choices. Yet, for many dog owners, the durability is worth the extra cash and fashion sacrifice.
Biothane
This material is terrific for those water-loving canines, made of polyester webbing that is heat-coated with polyvinyl or polyurethane materials that are entirely non-toxic. They are an excellent substitute for neoprene or leather, as they are softer, less costly, and pretty flexible. Biothane can be used every day, tough enough to survive just about any activity, and does not slowly erode and break down as other materials may do. Biothane is so durable that it will stand the test on chewing and other attacks on it and holds up better than leather, neoprene, and nylon. Biothane is cheaper, waterproof, easy to clean, and doesn't produce a stench, and it's inexpensive compared to neoprene and leather.
The downside to this material may be that it's not as readily available as other popular materials, and it looks cheap. Biothane is becoming more common; however, the selection and availability are limited—yet functionality and durability are robust. Still, this quality material may appear more like cheap dollar store plastic that not every dog owner accepts; all about preference here.
Cotton Web
This lightweight, as well as an affordable material, is mainly for puppies learning how to leash-walk, which is why it makes sense that they're not as strong and wear a little bit faster than other materials; after all, it's for little soft puppies.
Purpose
At the end of the dog collar day, it's about what your furry one's collar needs are? Water fun, and walks, fashion, training, hiking, hunting, roaming, etc., the material and type come down to the collar's intended primary function, health, and your educated choice.
Considering your dog's needs, size, activeness, breed, health, and more, you may opt for a harness, flat collar, or even halter—maybe you try all three? The important thing is to do a good amount of research and educate yourself based on your dog's health and safety requirements. Your beloved furry pal's well-being comes first when buying the tool that may make all the difference in the days to come.
Find more tips for your pet:
5 Tips for Managing Dogs with Long Hair