Unfortunately, as the seasons change, so does the risk of flea and tick infestations. These tiny pests can wreak havoc on our pets' health and well-being, causing discomfort and potentially transmitting diseases. However, with proper preparation and preventive measures, you can minimize the risk and keep your beloved pets safe and sound.
Flea and tick activity tends to peak during warm weather, typically in spring and summer. However, depending on your location, these pests can be a year-round concern. It's essential to stay vigilant and take preventive measures throughout the year to protect your pets.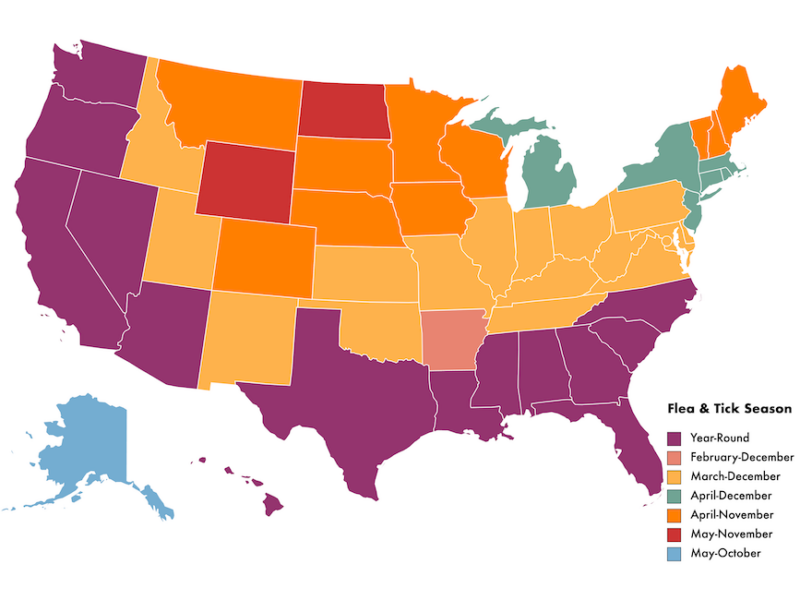 How do I avoid fleas and ticks?
Regular Grooming and Inspections: Maintaining a regular grooming routine for your pets is crucial in preventing flea and tick infestations. Brushing your pet's fur helps you identify any signs of fleas or ticks early on. Pay close attention to areas like the neck, armpits, and the base of the tail, as these are common hotspots for these parasites.
Use Preventive Products: These can include spot-on treatments, oral medications, collars, or shampoos specifically designed to repel and kill fleas and ticks. Regular use of these products can significantly reduce the risk of infestation.
Consider using products made with natural essential oils, like those offered by TropiClean, which effectively kill and repel fleas & ticks. Plus, they're not only safe for your pets but your family and the environment too.
Maintain a Clean Living Environment: Fleas and ticks not only affect your pets but can also infest your home. To keep these pests at bay, maintain a clean and hygienic living environment. Vacuum carpets, rugs, and furniture regularly to eliminate any eggs, larvae, or adult fleas. Wash your pet's bedding frequently, using hot water and detergent to kill any parasites. Use pet-safe insecticides or natural remedies to treat your home, like TropiClean's Flea & Tick Home Spray. It uses natural active ingredients to kill fleas and ticks by contact and can be used on carpet, furniture and bedding.
Minimize Outdoor Exposure: While it's essential for pets to exercise and enjoy outdoor activities, you can reduce their exposure to fleas and ticks by taking a few precautions. Avoid walking your pets in tall grass or heavily wooded areas where these pests thrive. Keep your lawn well-maintained, as a neatly trimmed lawn is less attractive to fleas and ticks. Additionally, consider creating a barrier with gravel or wood chips between wooded areas and your yard. For extra protection against fleas and ticks in your yard, consider using TropiClean's Flea & Tick Yard Spray.
Check for Signs of Infestation: Regularly check your pets for signs of flea or tick infestation. Look for excessive scratching, redness, or skin irritations. Fleas might leave small black specks, known as "flea dirt," in your pet's fur. Ticks, on the other hand, can be visible as small bumps, especially around the head, neck, and ears. If you notice any signs, consult your veterinarian promptly for appropriate treatment. In the case of an infestation, you can help relieve itching and irritation with TropiClean's Bite Relief Spray.
Consult Your Veterinarian: Your veterinarian is your best resource for guidance and advice on flea and tick prevention. They can recommend the most effective products for your pet's specific needs, provide information on local pest risks, and address any concerns or questions you may have. Regular check-ups and preventive treatments are vital to ensure your pet's overall health and well-being.
Flea and tick season can be a challenging time for both pets and their owners, as well as for shelters and rescues. The increased intakes, overcrowding, limited resources and constant flow of animals makes fleas and ticks infestations highly popular.
Help a shelter and rescue combat flea and tick season.