See the impact your donations have on our rescue animals and follow their recovery journey with us. So many of these wonderful animals are filled with love and hope because of YOU.
Although not every journey is perfect or fully complete, we celebrate every step taken to prove these animals are worthy of their second chance at life. Here are this week's CUDDLY LIVE Instagram updates.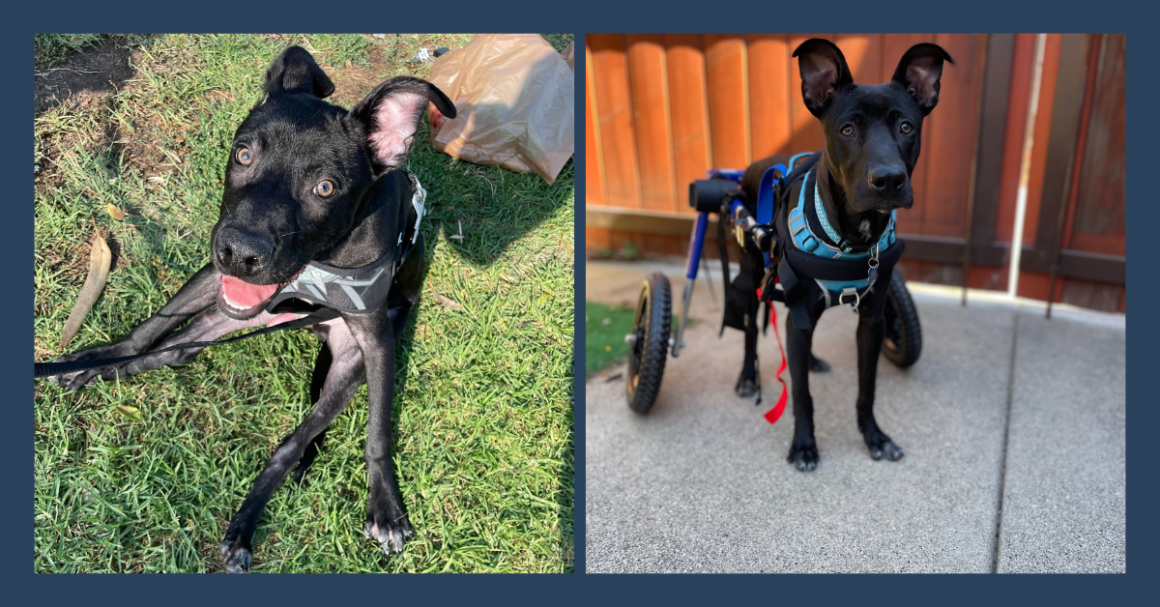 Wobbly 5-Month-Old Puppy's Mobility Continues To Decline As We Race Against The Clock For Answers
Thanks to the CUDDLY Club community, we were able to introduce Loki to a brand new perspective on mobility! Because of the generous donations of CUDDLY Club, Loki can now roam and run free to his hearts desire!
We could still use donations and wishlist items to make sure he is comfortable and ready to find his furever home!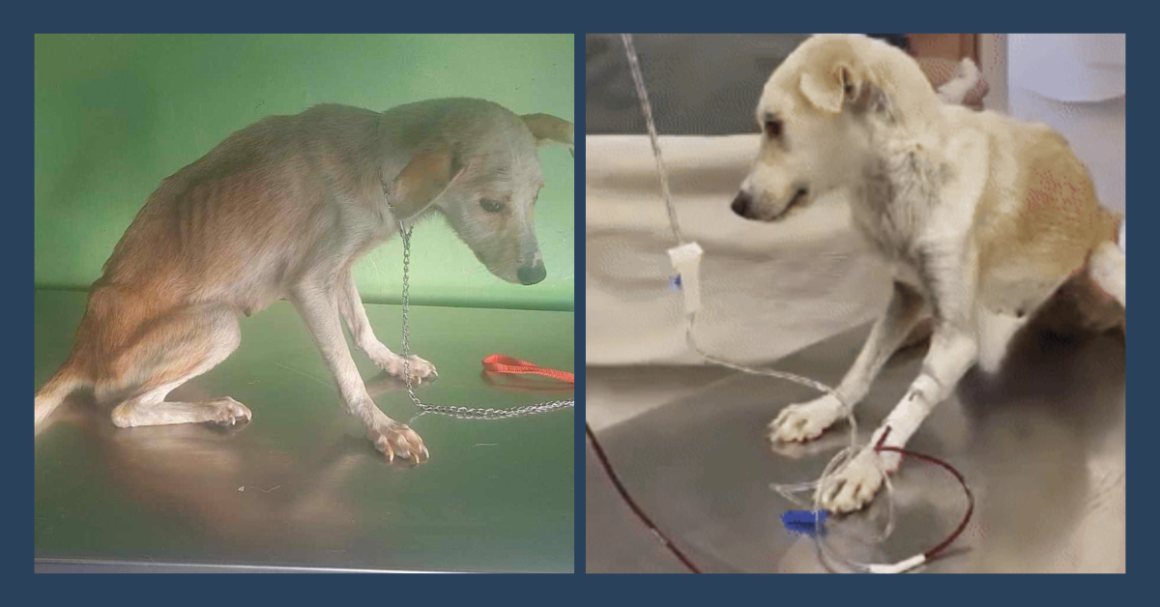 TW: Helpless Mother Watches in Horror as Her Deceased Puppies' Are Eaten
Pepsi received a life-saving blood transfusion and additional fluids yesterday and today we are relieved to share that she is currently in a stable condition. She's even started eating on her own! She is on a specially tailored diet and is thankfully responding well to it.
While there's still a challenging journey ahead, we are grateful to have crossed the initial hurdle. Our heartfelt thanks go out to those who generously donated to support Pepsi's recovery. We will post more updates on her progress and pray there are no further setbacks.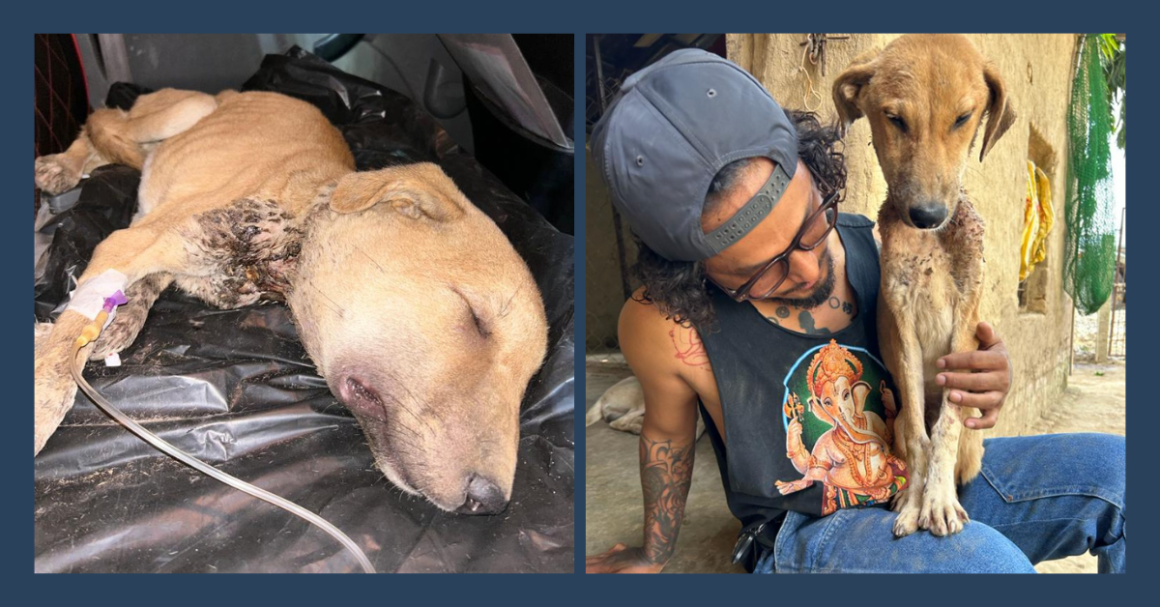 Street Pup Almost Decapitated By Rubber Band Choking His Neck, His Swollen Head Nearly Falling Off
Look how great Bishnu is doing now! The swelling to his head is completely gone, no more infection, his trachea is healing well and able to eat all foods now. Bishnus' hemoglobin levels are almost normal now. His wound still needs lots of care and healing as well as gaining some much needed weight. But we are so happy with his progress !
As you can see from the video Bishnu loves to be snuggled, especially by Parkash who he knows saved his life. At every opportunity he will get as close to him as possible….the poor little baby is feeling love and care for the first time in his short little life, and we are honored that we get to be the special people to give him the love and comfort he deserves.
We are overwhelmed by the love and support shown for Bishnu, a little street pup in rural Nepal has a whole world behind him and we are incredibly thankful to each and every one of you. Thank you for making Bishnu feel so special.
Please keep supporting these forgotten babies we are rescuing daily from the most horrendous conditions imaginable.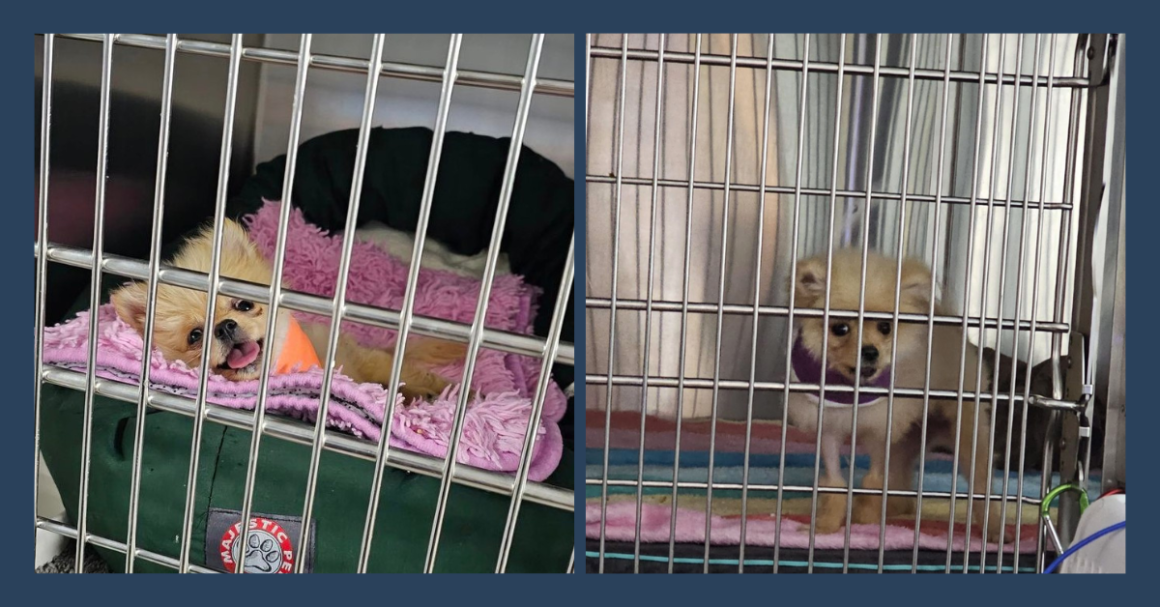 Pomeranian Puppy Accidentally Slammed in a Door Agonizingly Endures Broken Neck & Legs
Oso continues to make remarkable progress on his road to recovery. This big boy has graduated to a larger kennel and is now confidently exploring his surroundings, albeit with occasional demands for attention at the front. His endearing and humorous personality shines through as he navigates this journey with strength and determination.
However, Oso's ongoing hospital stay has accumulated substantial expenses, and we find ourselves in urgent need of donations to support his continued care. Your generosity will make a significant difference in Oso's life, ensuring he receives the medical attention and love he deserves. Join us in supporting Oso's journey towards a brighter and healthier future. ❤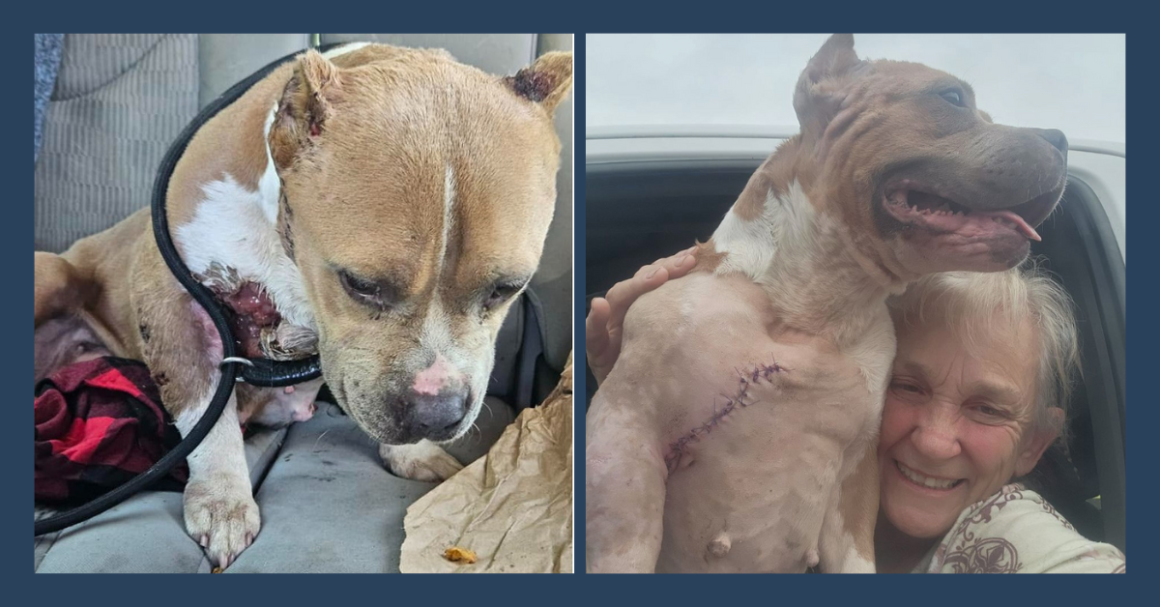 Abandoned After Her Use Was Over — Critical Injuries Threaten to Strip Dog-Fighting Victim's Life
First off, we wanted to take a minute to say thank you from the bottom of our hearts for the love and support you all have been showing to Hedy! This sweet girl is certainly feeling all the love & her days of neglect, abuse, and abandonment will soon be a distant memory. She is absolutely LOVING the yummy bones you all have been donating as you can see from this video!
Sweet Hedy is doing great, she ran rescue errands with me today! She rides well and was so well-behaved while we made our stops. Hedy greeted everyone we encountered like a long-lost friend. She is a happy, loving lady, despite the suffering she has been subjected to. She just wants to bring love and smiles to those around her. And she is so good at that!
However, Hedy still has some physical healing to do. Some more vet visits and some time, and then after that, she will be ready to go to her forever home. If you would like to support Hedy on her healing journey, every donation & supply adds up and makes more of a difference than you know! Thank you in advance for your kindness and for helping us save this sweet girl's life!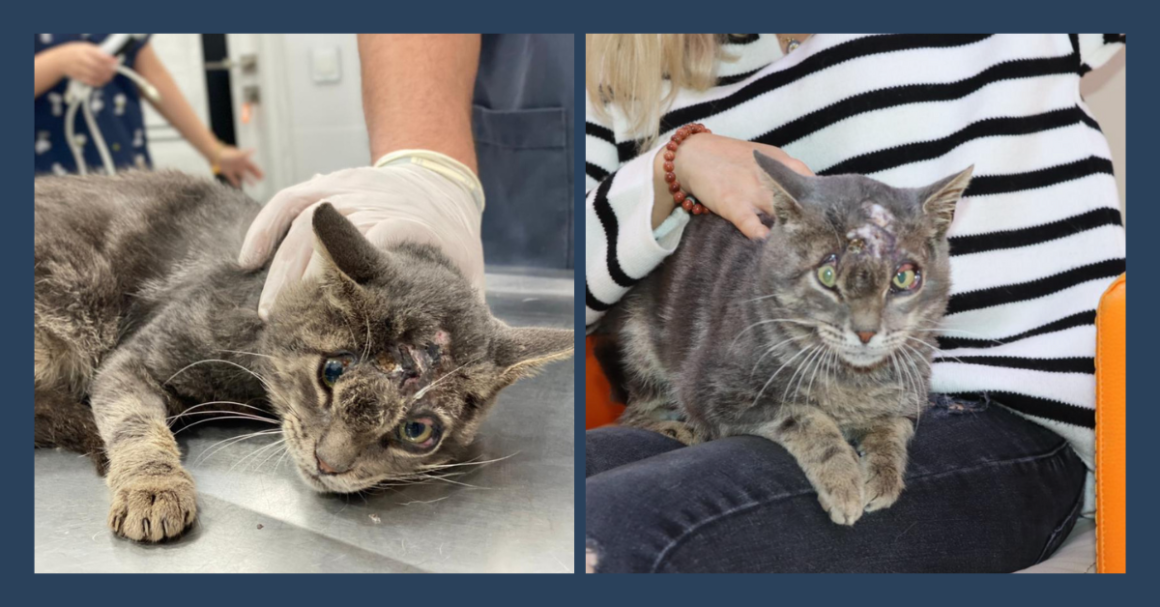 Humans Tortured Him For Hours, Disfiguring Him & Forcing Him To Sleep With His Eyes Open
Sweet Tommy is doing okay. He may never be whole again, but he's much better today than he's been in months while living on the streets.
Tommy still cannot close his eyes, but we are very thankful for the progress that has been made since his rescue. His bloodwork is steadily improving. With all the cleaning and lubricants, he is able to blink and move his eyes more frequently. With enough care and attention, he may one day soon be able to close his eyes. Whether Tommy is a candidate for reconstructive surgery remains to be determined, as the specialists he's seen so far have given conflicting opinions.
Tommy's hospitalization is far from over. He won't be discharged for weeks. Thank you all so much for supporting this sweet boy. Your donations are making a huge difference in his progress. Any and all amounts towards Tommy's recovery are so appreciated.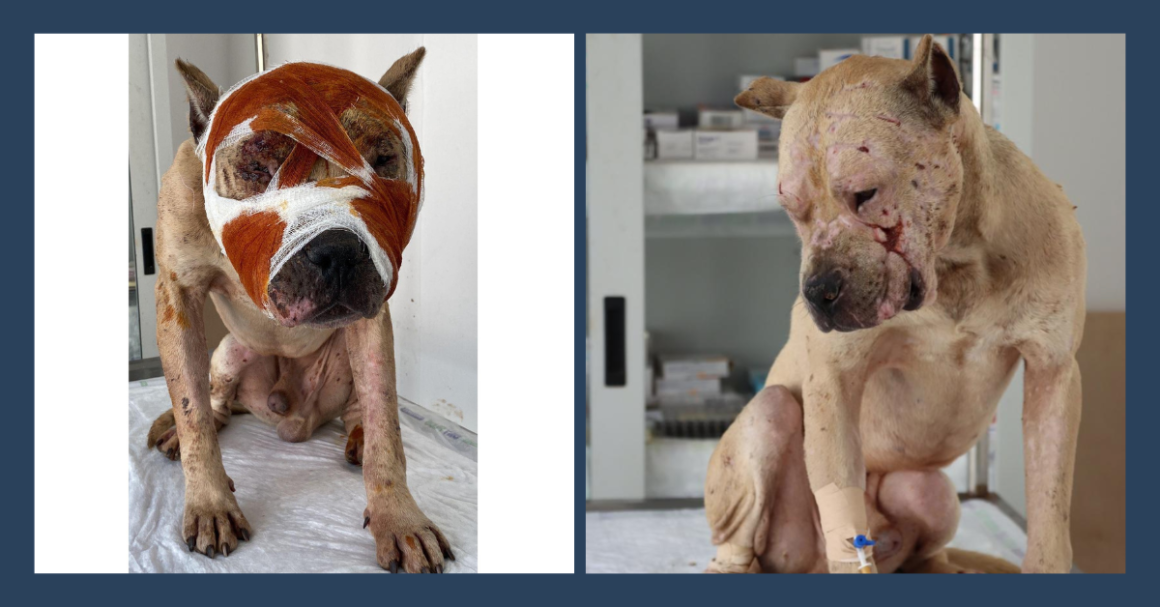 Gentle Boy Left With His Face Carved After Monsters Force Him To Fight
Beautiful Joey's wounds are getting better with daily cleaning and ointments. However, his emotional state is sad – he is depressed and shut down.
Joey has been through a lot, too much for any soul to bear. So it's understandable that uplifting Joey's mental health will take some time. The most important thing is that he is safe and no one will ever harm him again.
Please consider supporting Joey in his healing journey. Any and all donations will go a long way in securing a brighter future for this special soul. THANK YOU.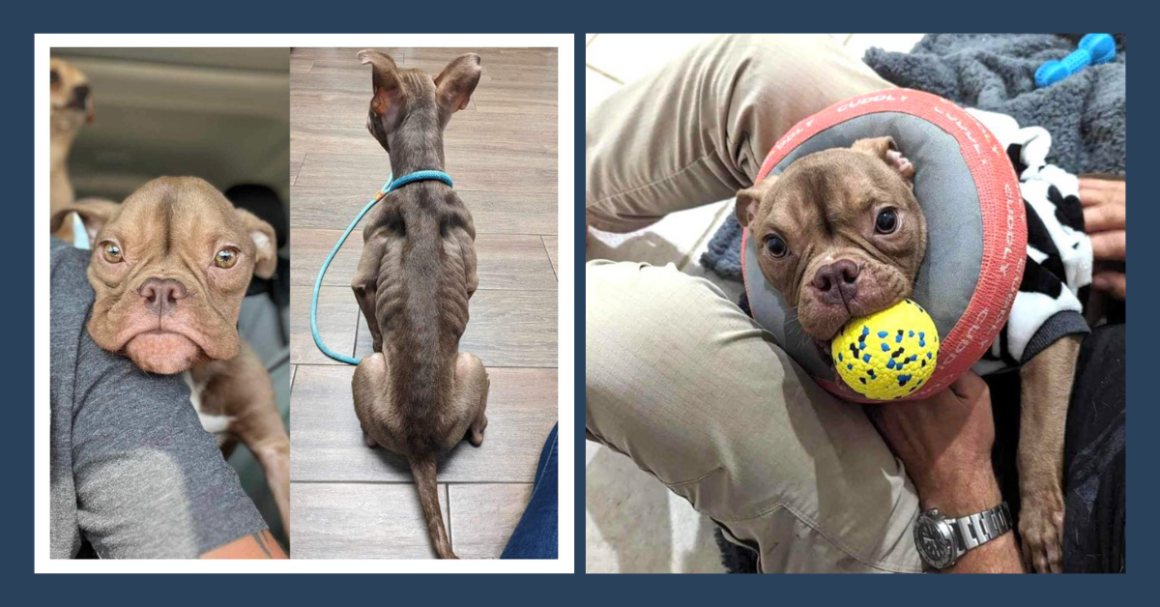 15lb Skeleton Of A Dog Found Hunched Over In The Dark, About To Collapse
Niko update! We've got good news for you all! Niko is healing so so wonderfully and is doing amazing! Sweet boy has been recovering smoothly since his neuter and procedure to correct his paraphimosis.
He's yet to have setbacks so we're hopeful the issue has been resolved. His personality is coming out more and more each day and turns out he's a huge fan of toys. He's been loving each gift he gets from his wishlist — many thanks to those who sent something his way! He's currently obsessed with these toy balls and it's so good to see him loving life! We are currently starting to look for his forever home so please reach out to us if you are interested!
And to those who gave, THANK YOU. You made this happen. This boy is well on his way to an amazing life because of you!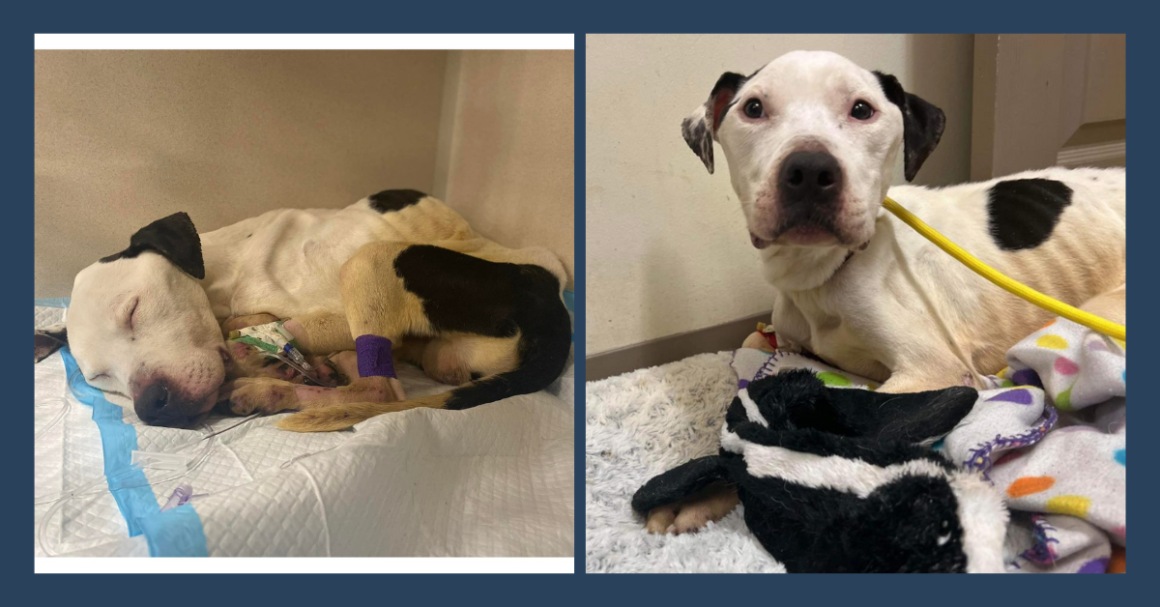 Urgent: Gaunt Pup Found Cold & Unconscious On The Train Tracks
We are thrilled to share that Tonka is with Dr. Terry, and he is STABLE. Last week, Tonka was found on the train tracks, unresponsive, and nearly starved to death. It was touch and go for several days, and Tonka gave us a few scares, but he slowly gained enough strength for us to move him into the care of Dr. Terry and her brilliant team. The staff at Lake Hartwell Veterinary Clinic have been feeding Tonka very small, frequent meals to help him gain weight without succumbing to refeeding syndrome, which can turn fatal for dogs in Tonka's condition. But Tonka is in the right place, surrounded by the best of the best, and he is flourishing.
We always err on the side of caution with dogs found in such critical condition as Tonka, but we believe he has turned a corner on this nightmare. He is keeping food and fluids down, can walk on a leash, and even made a new furry friend at the clinic!It will be several weeks until Tonka is healthy enough to leave the hospital, but we are so pleased that he is on the road to recovery.
Thank you all for supporting Tonka's second chance. Tonka is currently available for adoption on our website.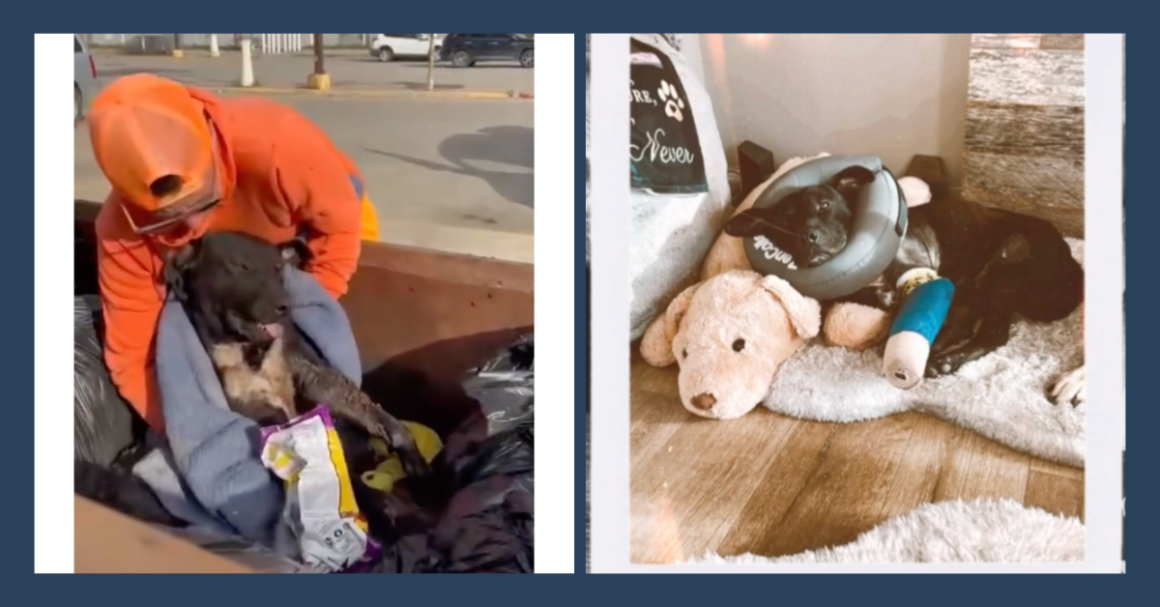 Wounded Pup Heartlessly Discarded In a Dumpster & Begins Withering Away As Maggots Wreak Havoc
Who's ready for a Officer Oswald AKA Ozzy update?! Since being released from the vet, sweet Ozzy has been doing amazing in his foster home! As you can see from the video, he was extremely happy to leave the vet and see us…maybe a little too excited. 😅 
Ozzy had his fourth bandage change the other day! The surgeon is not sure yet where or not the radial nerve was damaged and if he will have full feeling or use of the limb but he has feeling in his toes as of now. Only time will tell! But his foster is doing laser and red/infrared light on his limb. 🙏
Thank you all SO much for helping us save Ozzy's life. Although he still has a long road ahead, he is certainly on the right track. Your support means the world and allows us to save pups like Ozzy. Stay tuned for more updates! 💖