It's a Thursday early in 2022 and my Zoom window is filled with fur. Every cat parent has been in this position at one point or another and today, that pet parent is Sterling "TrapKing" Davis.
Alanis Mewesette is being "the most" (his words) as she struts in front of his computer demanding love. She clearly has her dad wrapped around her little white paw.
Sterling has always been a cat guy, but it was back in 2012 when he really stepped into animal welfare. He was on a break from touring with the likes of Tech N9ne and wanted to fill his downtime with something meaningful. A Craigslist ad asking for volunteers at a cat rescue marked the impetus for a new chapter in his life.
It was obvious very early off that he was a unique presence in cat rescue. Men and specifically, men of color were noticeably missing and Sterling took that to heart.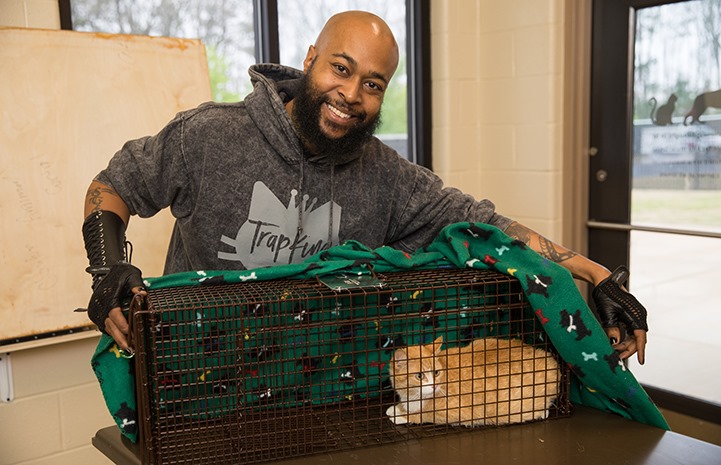 Along with his cat squad, Bowie, Damita Jo, and Alanis Mewesette, Sterling set off to help cats and to dismantle stereotypes around men who love cats. The keystone of his platform is simple, you don't lose cool points for compassion.
In the landscape of cat rescue, typically you only hear about loss, abuse, and a lack of resources. Sterling's focus on kindness and fixing the fixers is a breath of fresh air and finally brings joy back to volunteering.
"When I go out for TNR [Trap-Neuter-Return], I'm like Rambo preparing for battle. I'm putting my gear on and I'm getting ready to have fun. I'm like a superhero out here," Sterling says with a smile. "Volunteering is a positive thing, it shouldn't be something that hurts us or annoys us."
As someone who is giving away cat food with the help of his sponsor Weruva, kick-starting TNR efforts around the country, and developing a TNR badge for the Cub Scouts, his enthusiasm has translated to big wins for rescued cats. Even in the midst of a worldwide pandemic, Sterling never slowed down.
The past two years have been focused on education and inspiring the next generation. About animal rescue, yes, but also about how caring for a cat can look.
"People think you can't train your cats, we gotta debunk that," says Sterling. "More people are realizing they can do more with their cats."
From tricks, to outdoor adventures, Sterling's cats live incredibly active lives. Even at this moment, his gray tabby, Bowie is acting frontman for the cat band in the Amazing Acro-Cats lead by Samantha Martin.
Breaking down the misconceptions of men who like cats has even expanded into the romance department. TrapKing and Nathan the Cat Lady joined forces to create Tabby – the cat person's dating app. This app grew from a personal place, as the cat dads were struggling to find a partner accepting of their furry family members.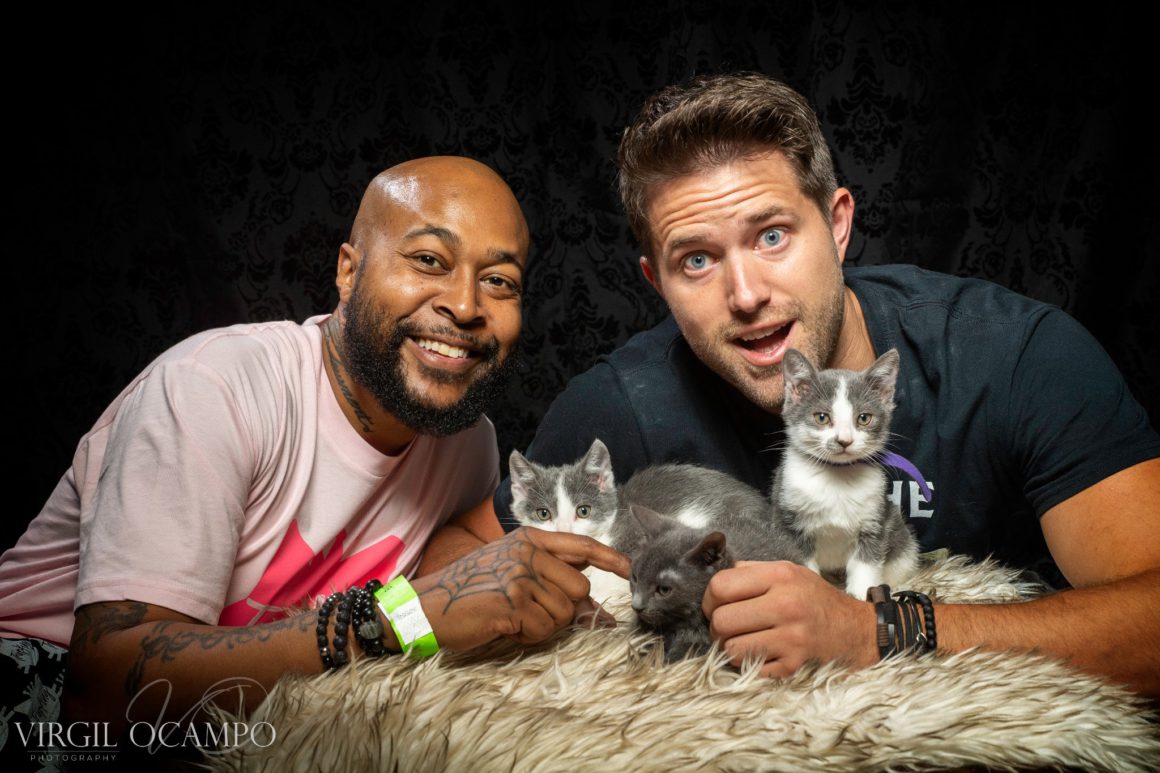 All of his projects clearly emphasize the need for respect and kindness. As a former member of the military, Sterling wants that same kind of honor bestowed to rescue workers. A smile smears across his face when he talks about an imagined future where a veteran TNR volunteer could walk into a room, covered in badges and be saluted for her service.
Still, that future seems a long way off when those in animal welfare are fighting burnout and online bullying on unprecedented levels. While it's understood many systemic problems plague animal welfare, TrapKing calls attention to the impact of the personal choices we make.
"[Compassion fatigue] doesn't just come from the animals we can't save or the lack of supplies, it comes from what we do or say to each other – or what we don't do."
Sterling's actions speak louder than any quote ever could. He's taken on a giant project in championing cat rescue and giving us all the chance to find joy in the work.
The hope is one day people will be open to caring for eachother without discrimination against gender, race, and species. Until then, to quote TrapKing, "The mission don't stop."