As it stands there will always be animals in need. And while we all wish for a perfect world where they can be housed and cared for properly, we must all do our part to help.
Perhaps you're looking to help, but not sure where to start. That's perfectly common and it can be overwhelming to choose an organization to support. So, we've detailed the 6 best organizations helping animals for you to see the world of good that exists.
These organizations vary in approach and function, but they all operate under the same principle, to help animals in need.
Consider with CUDDLY: 6 best organizations helping animals
· How to identify a good organization
· What the best organization have in common
· 6 best organization
· How you can contribute
How Can I Identify The Best Organizations That Help Animals?
A lot of the work done to help animals is done with a team. You'll want to check out an organization's website and how they structure their operations. Some have a board of directors which oversees activities and reviews daily plans and future goals. This is more the planning arm of an organization, but their efforts truly have an impact on how the employees and animals are supported.
The next group can be seen as the staff which is often led by a director with either volunteers or paid staff below. Often there are various coordinators which help with adoption events, social outreach, and they often facilitate transportation.
Aside from the structure, check to see if there is an on-staff veterinarian or a team of volunteer veterinarians to make sure all animals are properly cared for
What All The Best Organizations Helping Animals Have In Common
The simplest answer is a love for animals, but the best organizations also prioritize safety and care before even beginning the adoption process. Part of the priority of safety and care is also an attention to cleanliness, medical needs, behavioral needs, and overall quality of life.
Some organizations take in animals from a variety of situations, some extremely dire. In the below list of organizations, you'll see that each one is committed to basic values and all work tirelessly (some as unpaid volunteers) to ensure that animals are housed in safe conditions.
The best organizations are transparent about their practices and communicate their efforts to the community and to potential adopters. Through the aim of transparency and communication, a good animal organization should also be able to act like professionals in the field. This means that they are willing to discuss questions and always work to help humans better understand what animals need. In this way, many volunteers and employees alike must be leaders who can confidently care for animals at so many stages in life or care. This means that they have an understanding of medical and behavioral needs.
Below we've listed out some great options to check out and understand what makes up a great animal organization.
1. Your Local Shelter Or Rescue
Your local shelter could be a great solution if you're looking to volunteer or donate locally. You can usually call or get in contact with your local shelter to ask about needs and upcoming events.
See if they are looking for volunteers or if they are in need of supplies like food, blankets, or toys to name a few. Most are looking for volunteers as well. Even if you aren't comfortable with caring for an animal directly, you can still play an equally large role in the running of the shelter or rescue. Many are looking for volunteers to help with bookkeeping, social media, coordinating adoption and transport efforts and overall financials.

At CUDDLY our goal is to give all animals a healthy life and a loving home. We enable animal rescues to create fundraisers and wishlists to support animals in their care.
What Does CUDDLY Do?
With over 3,500+ animal welfare organizations on board, CUDDLY's mission is to help save as many animals globally through community, innovation, and creativity. As a for-good startup, we believe animals often "rescue" us. And it is our obligation to support those who do not have a voice.
As a company, we believe the best way for us to make an impact is by providing the "business" tools, namely fundraising, marketing, and a valuable community, to animal-focused non-profits so that they can fulfill their potential and continue to do good.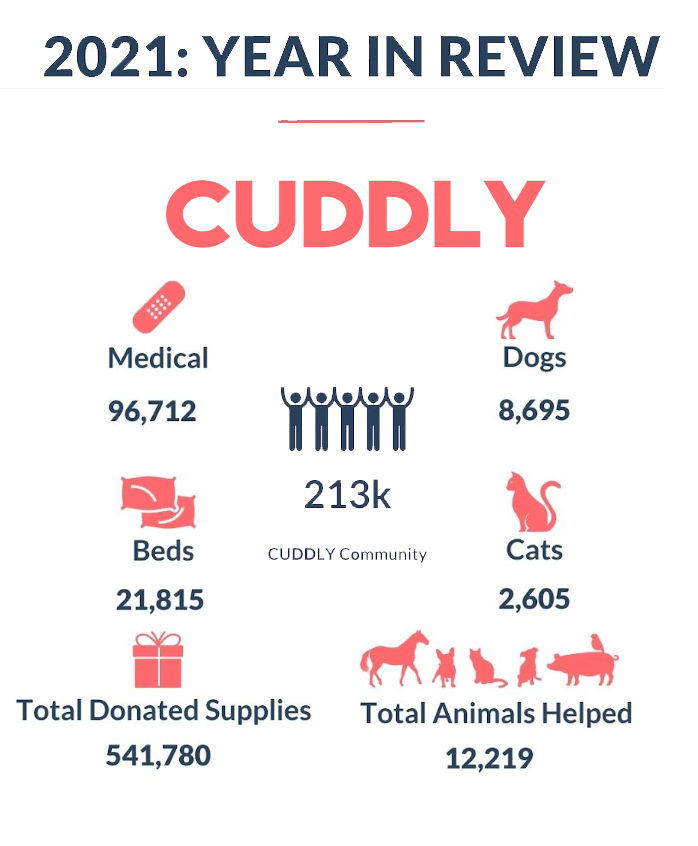 What Has CUDDLY Achieved?
By the numbers we have:
 3,500 Shelter & Rescue Partners
30,500 Campaigns Funded
$49.3 Million In Total Donations Raised
250,000 In Our Community 
3. ASPCA
Aside from being a major advocacy group and educational resource for pet owners, the American Society for the Prevention of Cruelty to Animals (ASPCA) is a nationwide organization that takes in stray and surrendered animals, rescue animals from cruelty, and provides medical care as well. They were actually the first humane society to be established in North America and are one of the largest organizations in the world.
What Does The ASPCA Do?
Of the large offerings, the American Society for the Prevention of Cruelty to Animals (ASPCA) works to keep more animals in loving homes by protecting animals from harmful situations through community engagement, preventative action, and they also provide resources and care when needed. Their major offerings include:
Keeping Animals in Homes
Shelter Intake & Surrender
Animal Hoarding
Animal Relocation
Spay/Neuter
Animal Poison Control
What Has The ASPCA Achieved?
In 2021 alone, the ASPCA has spayed/neutered more than 43,740 animals. They have also relocated 34,552 animals for a better chance of adoption.

4. RSPCA
The Royal Society for the Prevention of Cruelty to Animals (RSPCA) was established in 1824 and is the world's oldest and largest animal welfare charity. They have 8 overall ambitions such as:
Reducing animal neglect and cruelty by half
Stop illegal puppy/kitten trading
See more than half of all UK farm animals reared to RSPCA welfare standards
End severe suffering for animals used in science
Secure legal protection for animals
Achieve statutory powers in England and Wales for RSPCA inspectors
Secure a UN declaration for animals
Inspire a 1 million strong movement for animal welfare by 2030
What Does The RSPCA Do?
The RSPCA largely works to advocate for all animals and provides rescue, rehabilitation, veterinary care, and education throughout England and Wales.
What Has The RSPCA Achieved?
In 2020 the RSPCA investigated over 57,000 complaints of animal cruelty. They also actively take reports and investigate cases of animal abuse/neglect and are working to achieve their 8 goals before 2030.
The Animal Welfare Institute (AWI) was founded in 1951 as a nonprofit charitable organization that aims to alleviate suffering inflicted on animals by humans. They largely work with policymakers, scientists, industry leaders, and even the public to seek better treatment for animals in various settings.
What Does The Animal Welfare Institute Do?
The AWI is mainly concerned with the treatment of animals in settings such as laboratories, farms, in commerce, at home, and even in the wild. They focus on improving housing for animals in research settings and are looking to abolish factory farms while also protecting companion animals from cruelty and violence. Their reach extends to reform fur farming, the international wildlife trade, the exploitation of marine species, and more.
What Has The Animal Welfare Institute Achieved?
In terms of education, the AWI awards scholarships to high school seniors in the U.S. who plan to use their post-secondary education to alleviate animal suffering. They also actively work to reform legislation nationwide. You can see their 2021 Annual Report for specific laws and future aims.
Alley Cat Allies works to advocate for cats worldwide. They work to confront any and all barriers to cats' safety including updating the animal shelter system, denouncing lies and propaganda related to the practice of euthanizing cats, updating outdated laws, and ending all cruelty to cats.
What Does Alley Cat Allies Do?
They work in communities to provide low-cost spay and neuter policies and programs. They also work to provide lifesaving Trap-Neuter-Return and Shelter-Neuter-Return programs to ensure that cats are properly cared for no matter the circumstance. Their top 3 goals are to:
Reform public policies and institutions to serve the best interest of cats
Expand and promote cat care
Increase understanding of cats to change attitudes and eliminate misconceptions
What Has Alley Cat Allies Achieved?
Since their founding in 1990, they have championed programs to the benefit of cats and communities. They created the Trap-Neuter-Return initiative and there are more than 600 municipalities that have embraced it in practice. They also have more than half a million supporters that follow and help to advance their policies for cat care and overall health.
Other Ways You Can Contribute To Helping Animals
While donating money is the most common contribution to animal organizations and welfare groups, there are so many other ways to make an impact such as:
Advocacy
There are countless advocacy groups looking to inform individuals so that they can continue their message in local communities and in the larger government. You can learn by reading past blogs, legal briefs, and even check out educational resources at any one of the organizations listed above.
Advocacy also does not have to mean that you are an expert in animal care or legislation. You can look at advocacy as simple as social media outreach. Today so much can be done to reach the community, all from behind your computer. Think about it, your one post about helping an animal in need could even reach millions of people worldwide.
Your attention to the problem and willingness to solve those problems will make a large difference in how we as a society view the care of animals. It's never too late or too early to advocate strongly for the care and treatment of the animals you love.
Volunteer
While volunteering sounds like a blanket statement, there truly is a lot to be done when caring for animals. You can take part in transportation efforts which often take time and care to enforce. Many animals have to be safely transported from one organization to a shelter or vice versa. This takes a detailed eye and trusted person to keep these efforts going.
You can get in touch with the above organization to volunteer or merely get in contact with your local shelter or rescue group to see how your skills can help. Whatever time you can devote will surely make a world of a difference to the animals that are so in need of proper love and care.
Final Thoughts: A World Of Good
Despite there being so many challenges to caring for animals, especially those in dire conditions, there still is a world of good being done. This list of animal organizations shows us that people do care about how animals live and are working tirelessly to fulfill whatever need they can. Many offer physical resources to animals and communities, but most also aim to educate the public. Education is such a powerful tool in what makes for an amazing animal organization.
So many of these organizations understand that help is needed, but we must all learn the ways in which to properly care for animals first. When looking for an animal organization to support this should become top of mind. You should be able to find resources to enhance your understanding of care, legislation, and how to best support these charities and organizations to the fullest extent. At CUDDLY, we aim to educate the public through our Blog and Podcast. With such a largely supported network of people and shelters/rescues we are always looking for additional donations to our Wishlist Program.